Some friends and I are part of a Silhouette Challenge group. This group challenges us to create new projects and ideas based on a monthly theme where we use our Silhouette machines as part of creating (as a template or stencil) or the finished product. This is my September's challenge project. Please check out everyone's September Outdoor project listed near the bottom of my post — who knows what kind of great ideas you'll find! Also, keep reading as I've included a free template file so you can make your own Yardzee dice! Woo Hoo!!
Growing up, I remember spending hours and hours sitting around someone's kitchen table playing games. Usually card games like Rummy or Uno, but sometimes we'd play Yahtzee and those dice bouncing all over the table was sooooooooo much a part of the fun! It was challenging to get winning combinations and also have everyone scrambling to stop dice from bouncing off the table!
The only bad thing about Game Nights were they stopped during the summer. The outdoor games were more complicated — they needed nets or hoops set up. And normally involved balls that zero'ed in on ME and generally bounced off of my head at least once. Volleyball concussions anyone?? Not Fun! Nope, nuh uh.
Boy, I wish I'd known about YARDzee back then. It probably existed, if you knew where to look. The internet didn't exist and Etsy was still a twinkle in someone's imagination. If you were a DIY'er, the project wouldn't have been nearly as jazzy or as easy to make as it now is. That's due to a machine capable of cutting out the bucket decorations and perfectly round & perfectly spaced dice pips.
Your Mostly Useless Trivia For The Day: A single "dice" is called a die and multiples are called dice. The round dots on a die are called pips!
This project was fun and hard work, but totally do-able if you have the time and a few tools.
First you'll need 5 cubes of wood. My dice are made from kiln dried fir and measure 3-1/2″ x 3-1/2″ and there's a good reason for that. I start out with a 4″x"4″ fence post and cut it down, but I only have to cut it lengthwise into 3-1/2″ pieces. How does that work? Well, a 4″ x 4″ fence post is actually 3-1/2″ x 3-1/2″ … it's a lumber/construction thing. You'll always get the length you are buying, but you will rarely get the width and thickness. Seems everyone is economizing and making their products smaller for the same price — not just grocery stores!
Please Note: If you decide to cut these cubes yourself, you will need a 12″ table or chop saw. I've been told that a 10″ saw is not big enough to go all the way through the wood and you'll have to make multiple cuts. A circular (hand-held) saw rarely comes with a blade larger than 7-3/4″ and you don't even want to think about cutting these with a hand saw. The only way to get a really even cut is with a chop or miter saw. Otherwise your dice will be wonky.
No Power Tools Tip: If you don't have and/or don't want to use a saw to cut the dice, many Home Depots will cut these for you if you ask them. Especially since you only need 5 cuts.
Now comes the fun part! I prefer to just put a clear sealer on the wood dice and let the natural color and wood grain show through. But you can paint them too. I've seen many sets created in team colors!
Orange with Navy pips for Auburn University (War Eagles!)
Black with Metallic Gold pips for Pittsburgh Steelers
Blue with White pips for New York Giants
Silver with Blue pips for Dallas Cowboys
You get the picture!
Now, if you plan to paint the pips onto the dice, you'll want to use the template I've provided below in this post. Cut out a stencil from contact paper or vinyl using a cutting machine. I have a Silhouette Cameo that I love, love, LOVE! Once the stencil is cut, weed out the pips leaving the large area and cover your cube. Then paint your pips with a couple of coats of your chosen color. Then carefully peel off the vinyl after the paint is dry.
Here's what a couple of my vinyl stencils looked like after I weeded them out. The black is the vinyl and the blue is the backing. After you lay down the contact paper or vinyl on the cubes, where the wood shows through is where the paint will adhere to the wood and where ever the vinyl is stuck down, the paint will just sit on top until you remove the stencil.
All of the dice needs to have the following sides and this is the order the pips need to be placed on the cubes.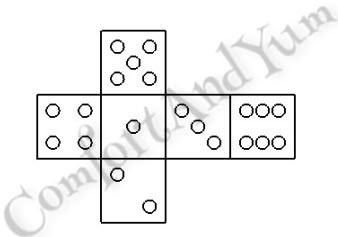 I generally start with the side that has 6 pips and I work my way towards the left.
If you are cutting your pips out of vinyl and you don't have a vinyl cutting machine, you can cut them by hand using a 3/4″ hole punch. I've never used a hole punch for vinyl myself since I have my Silhouette Cameo, but I read where others have. If you are cutting them using a hole punch, you will need 105 circles to make all 5 dice. Once the pips have been applied to your cubes, allow the vinyl to cure for 48 hours before use.
So if you are interested in making your own set of Yardzee Dice, here's the link for the template file.