It's that time of year again. Parents are torn between glee and anxiety attacks at the thought of their little ones heading back to school. First day of school in these parts is August 31st. I still don't understand why kids were going back to school just a week before the Labor Day holiday, but I'm sure there's a really good reason. Yup, has to be, right?
All I know is that WalMart and Staples are a war zone of picked-over school supplies and school buses are everywhere … but mostly, they seem to pull out in front of me and then stop at every street corner along every mile of my route.
I don't have school age children any longer, but I try to pay attention to what's going on with my neighbors and friends that do. First day of school photos are a really big deal and keeping a record of important milestone data is something that the whole family can look back on in years to come and smile about.
The First and Last Day of School Photo Shoot boards were something I saw in a Facebook group I belong to and decided to make some myself.
These boards are meant to last for years. They are made from hardwood and are 12″ x 12″ square. They have been sanded, prepped, painted and sealed. Then a layer of white professional outdoor vinyl is applied. The vinyl can be written on with Dry Erase markers, making this a perfect option for families with more than one school aged child and these boards can be used for every year your child is in school. In fact, one of my customers said she was going to use it to take photos of her niece when she heads off to college this year. I thought that was an awesome idea!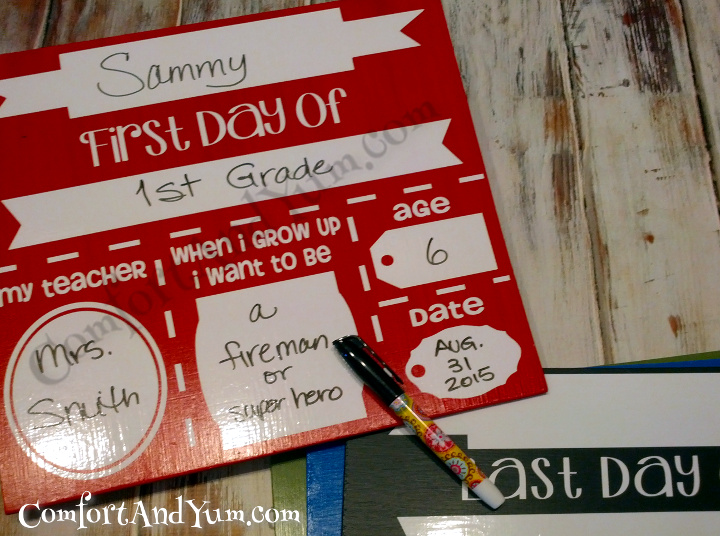 If you are interested in having such a board for your child's Last Day of School … look no further. Just flip this reversible board over! The Last day fill-in-the-blanks are there waiting for the end of the school year.
If you missed getting one of these for the start of school, there's still time! A few days/weeks won't matter and if all else fails, you will have it available for the Last Day of School this year.
Available in:
Cost per double-sided board: $15 plus shipping (free local meet-up)
Custom colors are available for $18 plus shipping (free local meet-up)
Contact me here to order since I'm revamping my Etsy store and my Amazon Handmade shop isn't open yet.