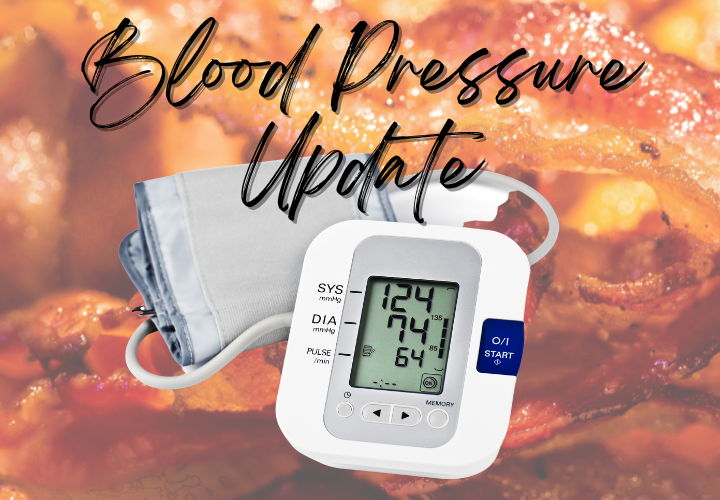 If you read my Why Did I Go Carnivore post, I mentioned that my blood pressure put me in the early stages of hypertension and I wanted to nip that in the bud while I still could — with just diet and exercise — without taking any drugs. I also mentioned that I'm terrified of my blood pressure cuff and absolutely HATE to have my blood pressure taken. I watched a video by Dr. Ken Berry that explained how I should prepare myself to have my blood pressure taken and it helped … a lot. I also found out that I should have both feet on the floor and left arm at the same height as my heart. That video is great for when you go to the doctor's office — watch it and see if your blood pressure won't improve the next time you take it by following what he's talking about.
Blood pressure numbers — here they are folks! If this doesn't make you want to at least find out more about the Carnivore Diet, I don't know what will!!
Blood pressure taken at the start of Carnivore Challenge: 140/96
Blood pressure taken on day 35 of the Carnivore Challenge: 112/77
I'm not lying!!! This is not made up … I used the same blood pressure monitor to take both the before and all three after blood pressure readings.
After taking my blood pressure 3 times:
I just picked the measurement in the middle.
How cool is that!! Just 30 days into eating a true carnivore diet and my blood pressure has already returned to within the normal range. I'll keep checking my blood pressure and keep posting my results.
OK, that's it for my cooking, grocery shopping and kitchen cleaning update — if you are interested in any of my other 30 Day Updates, please check out the links below!!
To see the individual sections, please click on one (or more) of the following links:
If you are interested in finding out more about the Carnivore Diet or would like to try a 30 or 90 Day Carnivore Challenge, you can find out more here: