I was shopping this past weekend and I spied a sign in the meat department with a big $0.99 on it. Those types of signs always get my immediate attention. So I went over to see what meat was on sale for under $1 a pound. I'm normally disappointed or at the very least unimpressed, but I always start out optimistic! I got really excited to see it was pork shoulder roasts that were on sale. Woo Hoo!! I picked up a great roast for just over $10 bucks! Happy dance in the Meat Department.
Buying a 10 pound roast on spur of the moment has its good point and its bad points. It's good because finding meat at under a buck a pound is really unusual — I mean this is 2015. The bad point is that pork (other than a boneless pork chop) has never been our favorite protein and don't even talk to me about ham [definitely NOT Hubster approved]. I bought this roast to retry a recipe — I had crock-potted a Boston Butt, but it didn't turn out the way I wanted. I was determined to get it right this time!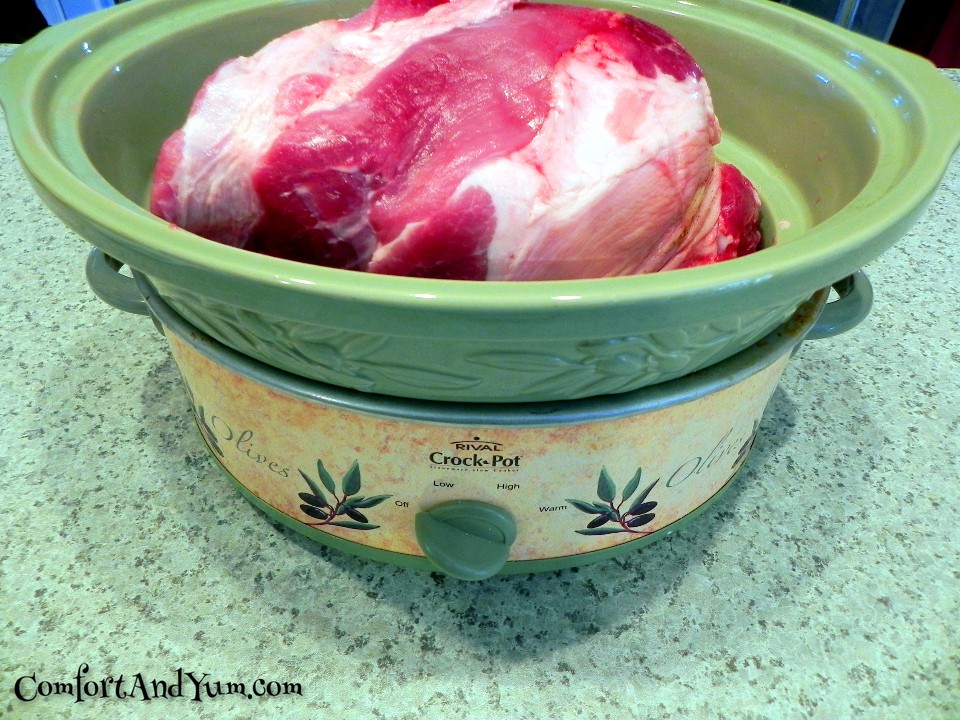 This was a BIG roast! [Note to self — buy a bigger crock pot … wait, this is the largest crock pot they make!] As you can see, even trying to shoehorn this puppy into my largest crockpot left a big wedge of it peeking out the top.
Now comes the seasoning! I have a dry rub that I put together that I use for just about everything — it emphasizes spicy Mexican flavors and I thought it would be perfect on this roast. I spooned on the spices and rubbed them into the surface of the entire roast, put the roast in the crock pot with the fat side on the bottom and set the temperature to low. I knew from my last crock pot pork roast that it's a mistake to add water to the pot. When there's water added the meat isn't able to crisp up and the dry rub isn't able to caramelize. This time I relied on the fat and the juices of the slowly cooking roast to provide the moisture needed for the bottom of the pot.
After about 10 hours I could tell that all but the very top of the roast was cooked and ready to "fork" apart. I turned the crock pot to Warm and left it overnight.
So, bear in mind that while crock-potting makes this tasty roast completely hands-off, it DOES take a long time to cook to "pull-apart" tenderness!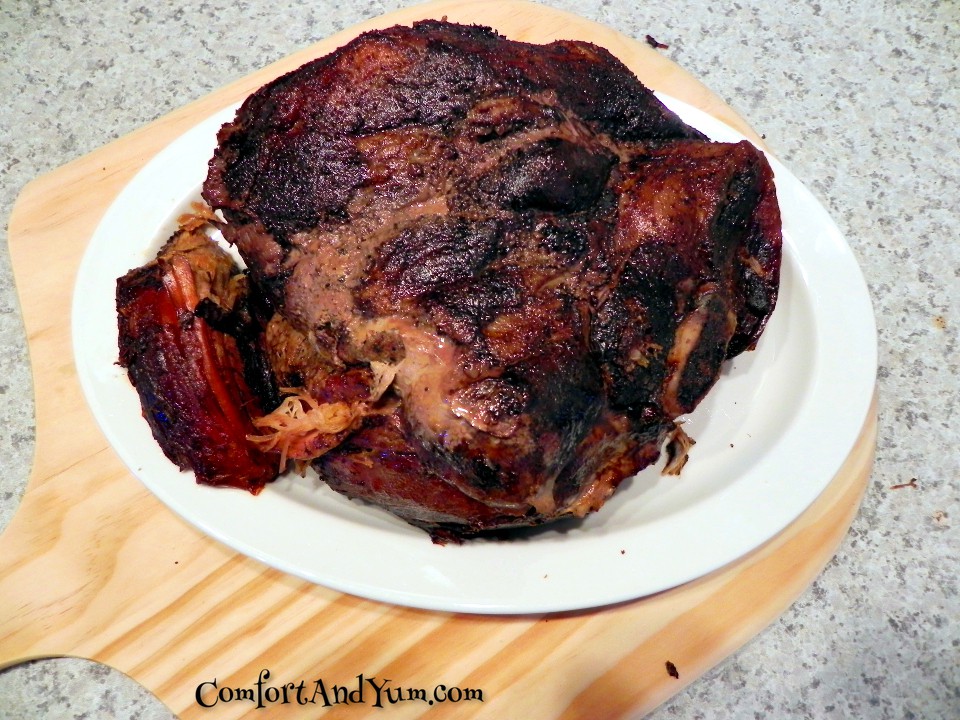 Now, it's time to get out a couple of forks and pull the meat apart and get ready to enjoy this succulent, spicy roast!
Totally Hands-Off Pork Shoulder Roast
Author:
Prep time:
Cook time:
Total time:
Ingredients
1 5-10 lb. pork shoulder or boston butt roast
Dry Rub or Spices
Salt & Pepper
Instructions
Remove roast from packaging and rinse with water
Over a towel or paper towels, apply dry rub, salt & pepper to entire surface
Place roast in crock pot, fat side down
Turn crock pot to low and cook for approx. 30 minutes to 1 hour per pound of meat
Once meat is pull-apart tender, remove roast from crock pot
Using 2 forks, pull apart meat and serve
Notes
Cook time is approximate since cooking time depends on size of the roast.