Every week or so I head over to either Produce Junction or the local farmer's market — depending on whether the farmer's market is open — and I load up on produce. Some of it I use for meals, some gets pressure canned and some of it gets dehydrated.
Sometimes I luck out and the produce I use most often is on sale! The green peppers at Produce Junction are usually tiny. Usually way too tiny to use for Stuffed Green Peppers, but this last week they were not only on sale but they were large enough to stuff! YAY!
I almost feel guilty posting this recipe — it's soooooo easy that a recipe really isn't needed. But the end result is so spicy and cheesy with that tang of crisp green peppers that I just couldn't help myself. I've been making Stuffed Green Bell Peppers The Easy Way for more than 25 years. I've never used a written recipe and it wasn't until I started this blog that I began writing down what I was doing.
I got into the habit of using a "Recipe Journal" for my wine and beer recipes years ago because you do NOT want to make 5-6 gallons of exceptional beverage only to discover you can't duplicate it. Have you heard the phrase, "crying in your beer???" I swear this situation is how it was created!
I knew I needed to take control of my food recipes the same way, so another Recipe Journal was born! Writing recipes and trying to make all the parts and pieces fit into measuring cups is HARD. Admit it — you have a recipe or two where you just fling, toss & pinch your way through to a lovely dish. Your brain is on automatic … it's muscle memory … it's whatever term you want to assign to it. Personally. I call it "cooking from the heart." But when you try and wrestle that flinging, tossing & pinching onto a piece of paper, well, my brain just drains of any useful knowledge — sometimes I swear I even forget how to write! And don't even try to write it down after the fact — something always seems to get lost in translation.
Luckily for me, most of my flinging, tossing & pinching is done with simple ingredients and dead-simple cooking techniques. I'm usually able to write up a recipe for a long-treasured dish with very little variation and only a few frustrating brain-dead moments.
So, let's get started!!
First things first, you'll need a way to cook your rice and you'll need some medium to large sized green bell peppers. Your peppers don't have to be green — you can use red, yellow or orange bell peppers but you want them to be sweet peppers. You want peppers that can be cut right down the center and will hold a cup or more of the filling in each side. I try to look for bell peppers that have 4 corners and are mostly square. It makes it easier for them to sit flat in the baking dish once they have been filled.
I use a rice steamer for my rice for a couple of good reasons. It's easy and it's foolproof. I dump in the ingredients (uncooked rice & water) and the steamer does the rest. It stops cooking when it senses the rice is done and goes into Warm mode. It does this all on automatic, so it comes in handy for when I'm working on other things. I also love the texture of the rice that comes out of the steamer. Depending on the type of rice I steam, it's either fluffy or sticky. Long grain rice comes out fluffy. Medium grain rice comes out kinda sticky and short grain rice comes out sticky.
Another point that I want to make. Some folks will suggest that you blanch the green peppers before stuffing & baking them. I've done this and I have to tell you, I'm not a fan. Here's why. First of all, blanching green pepper halves is a pain in the patootie. Large pot of boiling water plus medium to large vegetables with cup shape that can hold said boiling water plus slotted spoon or tongs equals a big mess (or a visit to a burn unit) if you aren't careful. Also, after the pepper is blanched, it becomes, well, floppy. I'm sure there's a technical term for it, but floppy gets my point across. Blanching softens the walls of the pepper so it isn't firm enough to hold the filling ingredients. You'll find yourself fighting with your dinner ingredients — and you will lose the fight. The third and final reason that I don't recommend blanching is after blanching and filling that pepper, there is so much moisture released during the process that your peppers will be swimming by the time you take them out of the oven. The end result will be gummy and mushy. Not my idea of fun eating or time well spent. Blanching basically turns what is supposed to be a quick and easy week day dinner into a long drawn out project that could potentially fail. Who needs it?
So here's what you will need for Stuffed Green Bell Peppers The Easy Way.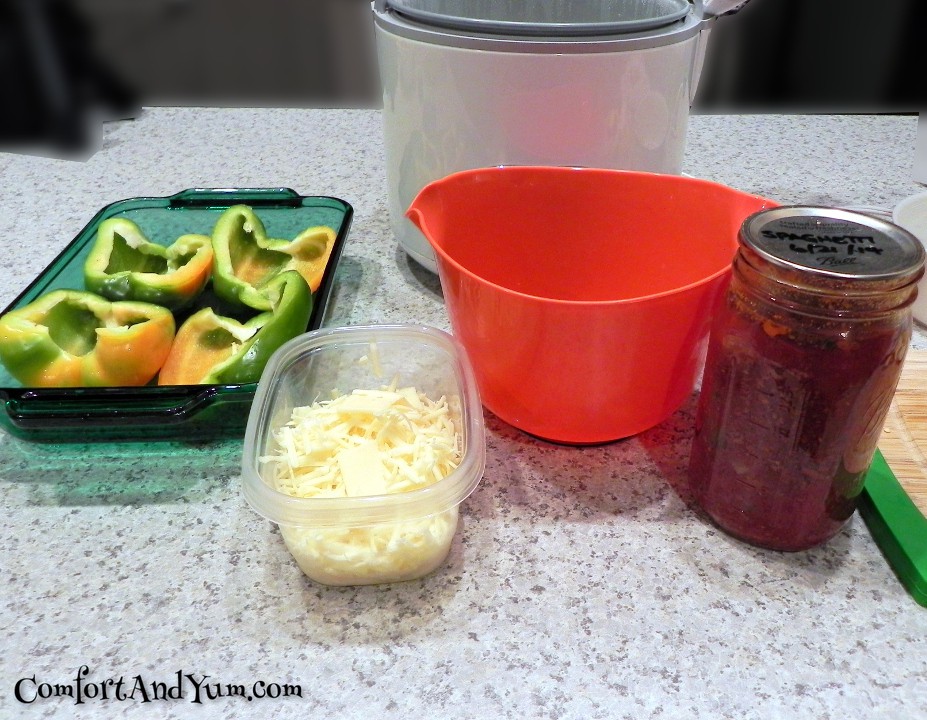 You'll need cooked rice, browned hamburger, green peppers, spaghetti sauce (I use my homemade and pressure canned sauce) and grated cheese. Now you see why this dish is so quick and easy — you just need a few simple ingredients that most of us keep on hand at all times!
Wash the green peppers and cut them in half from top to bottom. You can leave the stem intact on the outside and, using a sharp knife, cut across the white portion of the seed stem to remove it from the inside of the pepper or you can carefully remove just the stem. You want to keep as much of the pepper wall at the top of the pepper intact as you can. Cut or rip out the white veining and wash out all of the remaining loose seeds.
As a side note, if the pepper you are using is an heirloom variety of pepper (grown by an organic farmer or in your own garden) you can save the seeds and dry them. Then plant them in future years or store them in your seed bank. If the pepper you are using came from the grocery store or a non-organic farm it is likely that the pepper is a hybrid variety and the seeds will not sprout so cannot be saved.
Place the green peppers in a lightly buttered baking dish and let's get started on the filling.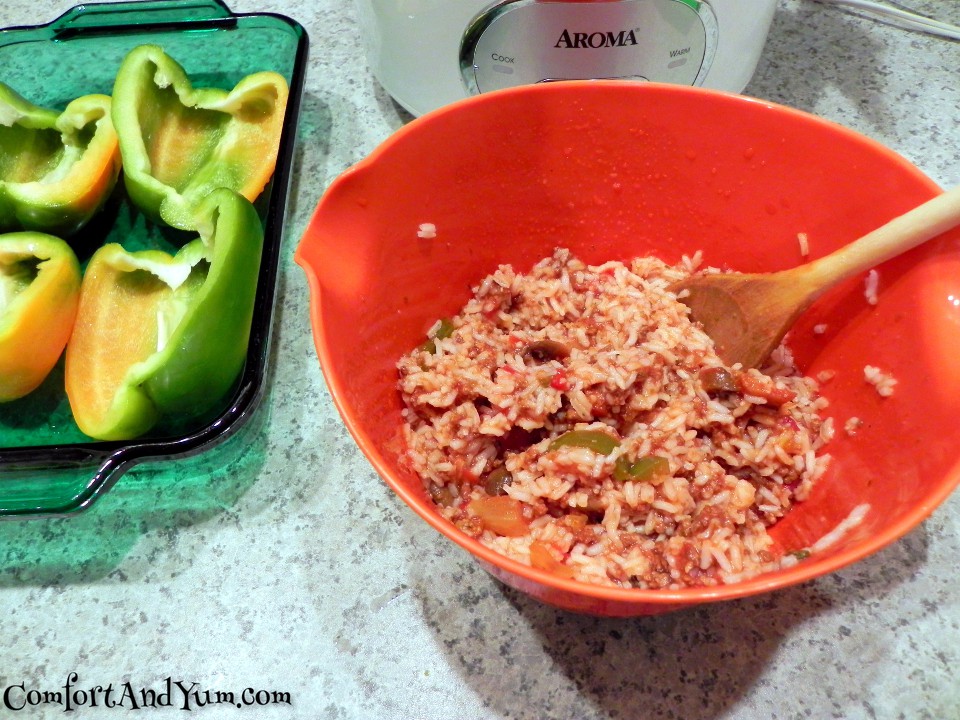 Mix your cooked rice and browned hamburger together. Then start adding the spaghetti sauce a cup at a time until the mixture is damp but not soupy. You want the mixture to have enough moisture to stick together in the green pepper. If the mixture is too soupy, it will get mushy as it bakes. If you feel the mixture is too soupy, add in more rice. It's always better to have too much filling — you can always pile it on top!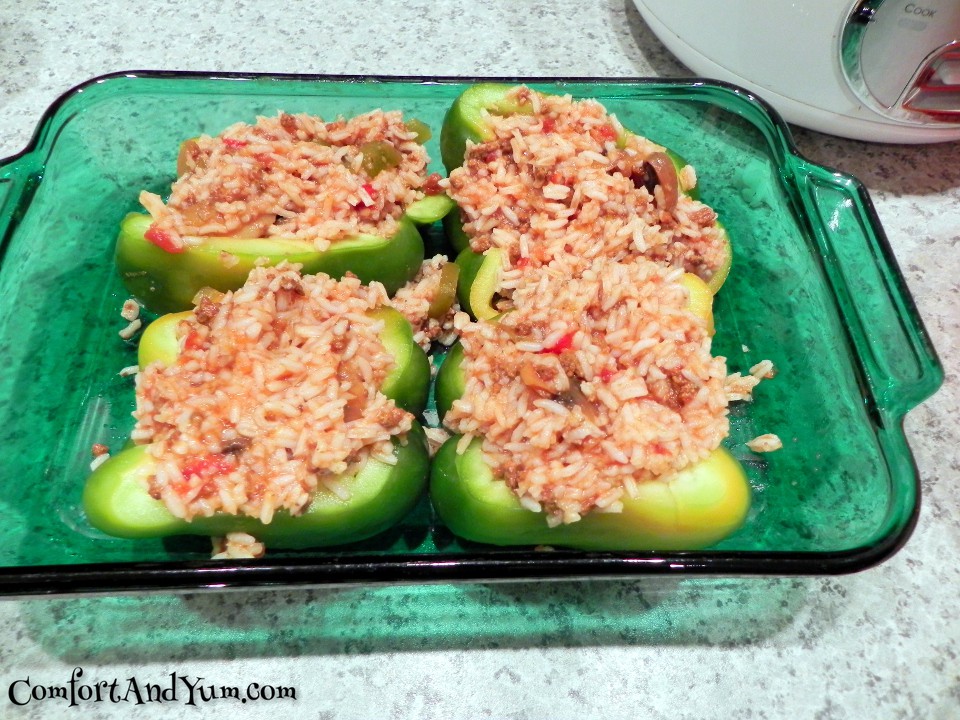 Fill your green peppers and press down so you get as much filling in each pepper as possible. Then top the peppers with shredded cheese. Pop those yummy peppers into the oven and bake until the peppers & filling are hot through and the cheese has melted and is bubbly and turning golden.
Remove from the oven and allow to rest for 5-10 minutes. This will allow the filling to set and the peppers will be easier to remove from the pan without dumping out all of your filling.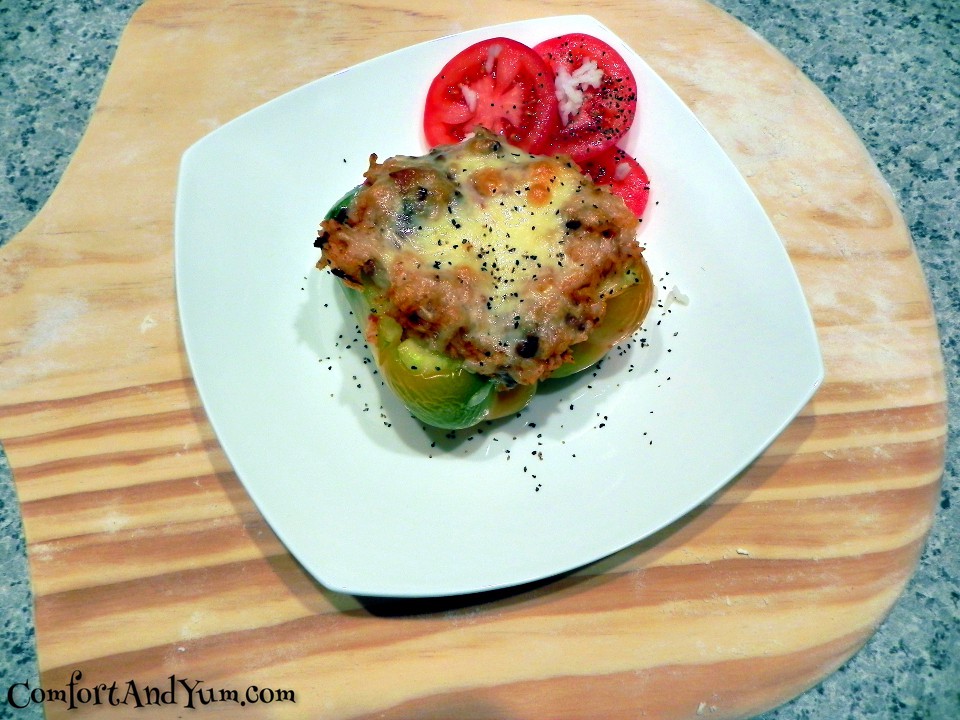 Stuffed Green Peppers
Recipe Type
:
Everyday Meal
Author:
Prep time:
Cook time:
Total time:
Serves:
4 stuffed green peppers
I almost feel guilty for posting this recipe — it's soooooo easy that a recipe probably isn't needed. But the end result is so spicy and cheesy with the tang of crisp green peppers that I just couldn't help myself. I've been making Stuffed Green Peppers this way for more than 25 years and the recipe is always tasty, quick and easy. Perfect for a week night meal.
Ingredients
1 tsp. butter or oil
2 green bell peppers, cut in half & de-veined, seeds and stem removed
4 cups cooked rice
1 lb. ground beef, browned and grease drained
1 jar prepared Spaghetti Sauce, your favorite flavor or 1 pint home-canned spaghetti sauce
1-2 cups sharp Cheddar Cheese, shredded
Instructions
Preheat oven to 350 degrees
Grease bottom of 9″x12″ baking dish and set aside. Use larger baking dish if necessary to fit peppers
In medium bowl, mix rice and ground beef. Add spaghetti sauce a cup at a time and mix thoroughly. You want the mixture to be damp enough to stick together but not wet and runny. If the mixture is too wet, add more rice
Spoon filling into green peppers. Be sure to fill all the nooks and crannies and press down to get as much filling inside each pepper as possible. Use all the filling, heaping on top if necessary.
Top with shredded cheese
Bake for 20-30 minutes until shredded cheese is bubbly and turning a golden brown.
Remove from the oven and allow to rest for about 5 minutes. This extra time will help you remove the peppers from the baking dish without all the filling falling out.
Notes
Prep time includes the time necessary to steam rice and brown ground beef if done simultaneously.[br][br]Cook time does not include resting time.[br][br]Recipe can easily be doubled or tripled.