I like brownies, but I have to admit that if I'm given a choice between a brownie and a blondie – I'll choose the blondie almost every time. If the blondie happens to have ribbons of hazelnutty goodness, a.k.a Nutella, running through it, I'd probably crawl my way over broken glass and small furry critters to get to them!
In case you came here because of the word "nutella" and you aren't sure what a blondie is, no problem – we all start somewhere. A blondie is a dessert bar very much like a brownie in density that doesn't have chocolate in it. WAIT!! I know, many people will just click away at this point, but if you love the flavor of the actual dough in chocolate chip cookie dough — you will LOVE blondies. They are chewy, moist and they have a buttery, kinda caramel flavor that's not quite like anything else! Totally scrumptious! You've got to try blondies at least once. You know you do!
I have a go-to recipe for blondies that I've used ever since I discovered what a blondie was. It's from an old church group cookbook project. I can remember helping to type up the recipes on index cards to give to the cookbook organization. When we got the cookbooks back, they were a stack of index cards, each category of recipe was on a different color card and they were held together by 2 large rings — a far cry from the community cookbooks that are being made today. My Mom gave me a copy of the cookbook while I was still in high school. I still have it. OK, enough of the time travelling! Back to Blondies with hazelnutty goodness.
Being that everything is better with Nutella, I decided to change up my blondie recipe and add some nutty goodness with some zing!
First you mix up your blondies mix and spread them into a 10″x13″ baking pan. Then you bring on the nutella mix (with its secret zingy ingredient). Use a spoon, icing piping bag or even an empty ketchup-type bottle to draw lines with the warmed nutella mix onto the unbaked blondies. I just use a spoon because that way the lines are thick and uneven — they have character. If you want something that's pretty even or more controlled, you may want to use a piping bag or bottle with a nozzle.
Now use a knife to cut lines running perpendicular to the nutella lines to make a pattern in the blondies.
Bake the blondies according to the recipe. You may find that the blondies still appear doughy after baking for 30 minutes. I will caution you to resist the urge to leave them in for much longer than 30 minutes. The blondies will continue to bake once they come out of the oven. If you leave them in the oven for too long they will become hard (like a thick cookie) instead of soft and chewy (like a brownie).
When you remove the pan from the oven, allow the blondies to sit for about 10 minutes and then cut into squares.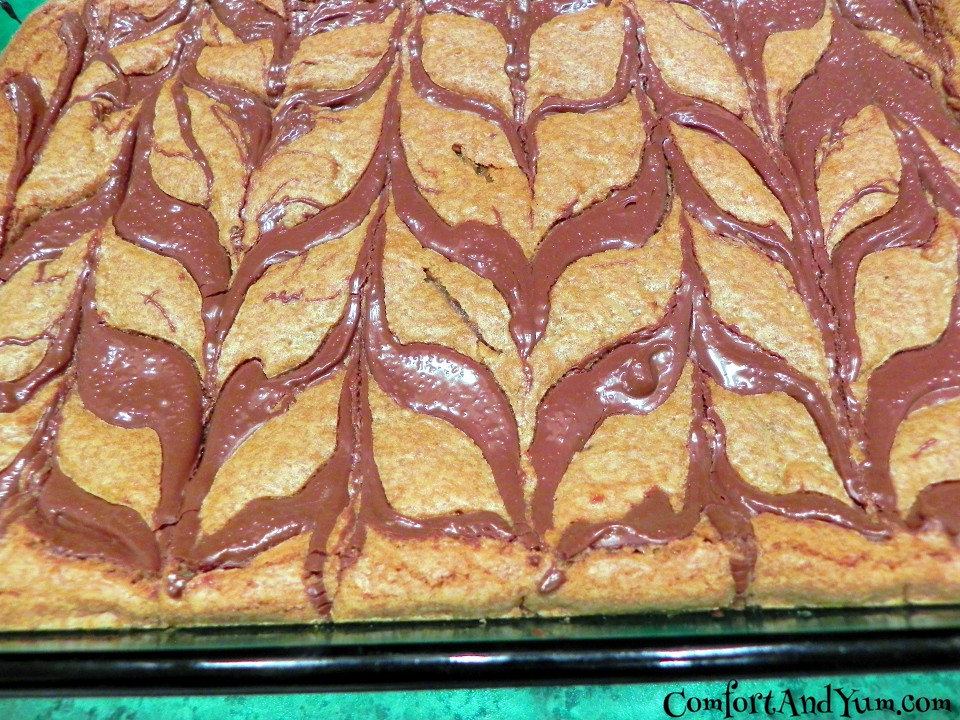 Nutella Blondies
Author:
Prep time:
Cook time:
Total time:
Ingredients
16 oz. light brown sugar
1 1/2 sticks butter, melted
2 eggs, beaten
2 cups flour
2 teaspoons baking powder
1/2 teaspoon salt
1 teaspoon vanilla extract
1 cup nuts, chopped (optional)
1/2 cup Nutella
1/4 teaspoon vanilla extract
1/8 teaspoon chili powder (optional)
1 teaspoon milk
Instructions
Preheat oven to 350 degrees for metal pans or 325 degrees for glass pans
Grease bottom and sides of 9″x13″ baking pan using butter or oil and set aside
In large mixing bowl, combine brown sugar and melted butter. Blend together.
Add eggs and vanilla to mixing bowl and mix well
Combine flour, baking powder and salt and add to mixing bowl. Mix well.
Add nuts (optional) and blend together.
Pour into greased baking pan and spread dough out evenly
Nutella Topping with Zing
Combine nutella, vanilla extract, milk and chili powder into a small sauce pan.
Depending on the type of chili powder you have and how fresh it is, you may want to taste after adding a pinch to see if it's strong. You want to feel the zing as an, "Oh, hello!" as it leaves the pallet but you don't want it to overpower the nutella.
Warm mixture over low heat until the nutella softens, stirring constantly
Spoon or pipe in rows onto unbaked blondies
Cut design in blondies by using a knife to cut through blondies perpendicular to piped Nutella Topping. Cut first one direction and then go between those cuts in the opposite direction
Bake for 30 minutes.
Blondies may appear to still be doughy in the center of the pan after 30 minutes, but do not over-bake. If you feel it's necessary, give them additional time in increments of 5 minutes. The blondies continue to cook once removed from the oven. If you over-bake they will become hard as a rock — especially around the edges of the pan.
Allow blondies to cool for 10 minutes and then cut into squares while they are still warm but not fresh out of the oven.