I was trolling the web looking for recipes … yes, I admit it. I troll. Who knows when the perfect recipe will appear right before my very eyes that I just can't wait to try and experiment on!
As I was trolling along, I found a recipe that was both an appetizer and a main dish … mexican yet asian … and based on traditional Italian food.  Who knew that such a contradiction would end up so darned tasty! With a few ingredients I was able to make crisp, crunchy, tangy, spicy Taco Ravioli and Egg Rolls.
The recipe I found is here and while the recipe instructions started out talking about egg roll wrappers, it suddenly switched to talking about pasta dough and I thought the instructions were a bit confusing. So I rolled up my sleeves, threw caution to the wind and basically winged it. Couldn't be that hard, right? The person that shared that recipe had already done the most important thing — to my way of thinking. I'd forgotten all about how versatile egg roll wrappers could be and he brought them back to my attention! [I feel a series of egg roll wrapper recipes coming on!]
First thing to do is start out with ground beef or turkey and either a packet of Taco Seasoning like El Paso or Taco Bell — OR — use my homemade Taco Seasoning mix. It's just as tasty, a lot less expensive than those packets and you don't have to worry about additives. Make the taco meat according to either the seasonings' or my mix's directions.
Now we are ready to create!
All you need is your taco meat, a small bowl of water and egg roll wrappers. I made a few ravioli shapes, but the egg roll wrappers were a bit too stiff to stay sealed and I kept having to pinch them shut at the edges. Even though they were being kept under a damp towel while I created more ravioli. I was concerned that the edges would come apart in the oil. Then I'd end up with greasy ravioli. Not cool.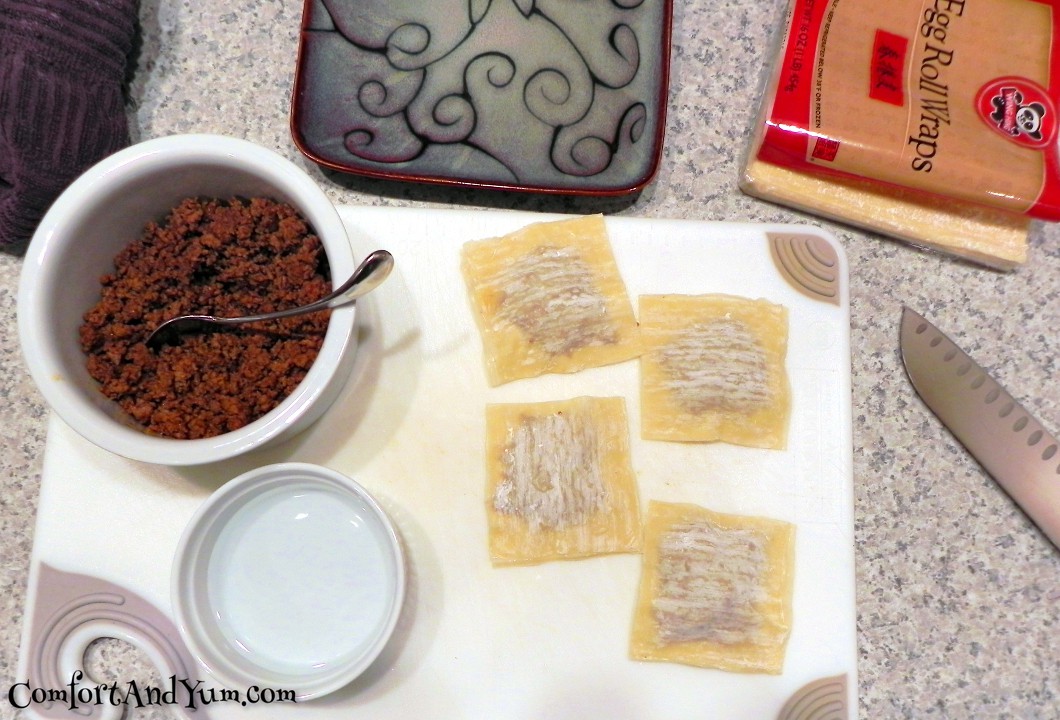 That's when I decided to just use the egg roll wrappers to make, well, egg rolls! Who says we can't mix and match cuisine components to suit ourselves. Right?? Tell me you agree.
So after fumbling a wrapper or two, I got the hang of it. Add your taco meat to the center of a wrapper diagonally. Leave a good amount of room — if you over-fill, the silly thing may decide to break open in the frying pan. [Ask me how I know … DOH!]
Next, fold up the bottom of the egg roll wrapper and gently tuck it under the taco meat. Then dampen the egg roll wrapper along each side and fold them in towards the center. Final step, dampen the top of the "envelope" and roll the egg roll pocket up towards the top. The finished egg rolls are sturdier and less apt to fall apart if you roll the bulk of the meat and wrapper up towards the tip instead of folding the top down.
When you are finished rolling each individual egg roll wrapper or ravioli, place them under a dampened (not wet) towel to keep them moist. In the case of the ravioli, check those edges as you go along and especially before you put them in the hot oil.
Pour oil into a frying pan so it's about 1/2 inch deep at least. You want to make sure that half of the egg roll or ravioli is submerged in the oil when you put them in the pan. Then cooking them evenly is pretty easy and you only need to flip them once. Heat the oil on medium high heat until water flicked into the pan dances across the oil.
I tested the oil using a cut up and unfilled egg roll wrapper. Everything in the wrapper is cooked, so what I was aiming for was a golden brown and crispy, crunch outer shell. I wanted it to fry as quickly as possible without burning the wrapper to black soot.
Carefully add ravioli and/or egg rolls to hot oil and flip to cook both sides. Remove from oil with a slotted spoon or tongs and place on paper towels to absorb extra oil.
Serve with salsa and sour cream. These can be enjoyed as an appetizer or, if you are like us, as our main course. Yum!
Taco Ravioli & Egg Rolls
Author:
Prep time:
Cook time:
Total time:
This recipe is both an appetizer and a main dish … mexican yet asian … and based on traditional Italian food. Who knew that such a contradiction would end up so darned tasty! With a few ingredients I was able to make crisp, crunchy, tangy, spicy Taco Ravioli and Egg Rolls.
Ingredients
1 packet Taco Seasoning Mix OR Homemade Taco Seasoning Mix
1 lb. ground beef
1 package Egg Roll Wrappers
Oil (vegetable or stable -pomace- olive oil)
Instructions
Make taco meat according to Taco Seasonings packet or Homemade Taco Seasoning Mix instructions
You want the taco meat to be moist so that it will hold together but not wet
Egg Roll:
Fill egg roll wrappers with a line of meat in the center diagonally
Fold the bottom up and tuck gently under the taco meat
Dampen the two sides and fold them into the middle
Dampen the top of the envelope and then roll the filled portion up to the top and press to seal
Ravioli:
Place 4 spoonfulls of taco meat on egg roll wrapper, leaving enough room around each spoonful so that the wrapper can be dampened
Dampen egg roll wrapper around all 4 sides of each spoonful of taco meat
Place a second wrapper on top and press firmly around each spoonful of meat to create a sealed pocket. When all the sides are sealed, cut into individual ravioli. Take each ravioli and press around the edges again to be sure they are sealed.
Keep filled egg roll wrappers under a dampened (but not wet) cloth until you are ready to add them to the frying pan. This will help prevent them from drying out.
Pour oil into a frying pan until it's about 1/2 inch deep
Heat oil over medium high and test the temperature using an unfilled egg roll wrapper. You want the oil to heat the egg roll wrapper to golden brown but you don't want the oil to be so hot that it goes dark brown or burns.
Flip egg rolls and ravioli so both sides are crispy and golden brown
Remove from oil, drain on paper towels
Server with salsa and sour cream.
Notes
Cook time includes time for cooking taco meat and frying completed egg rolls and ravioli.