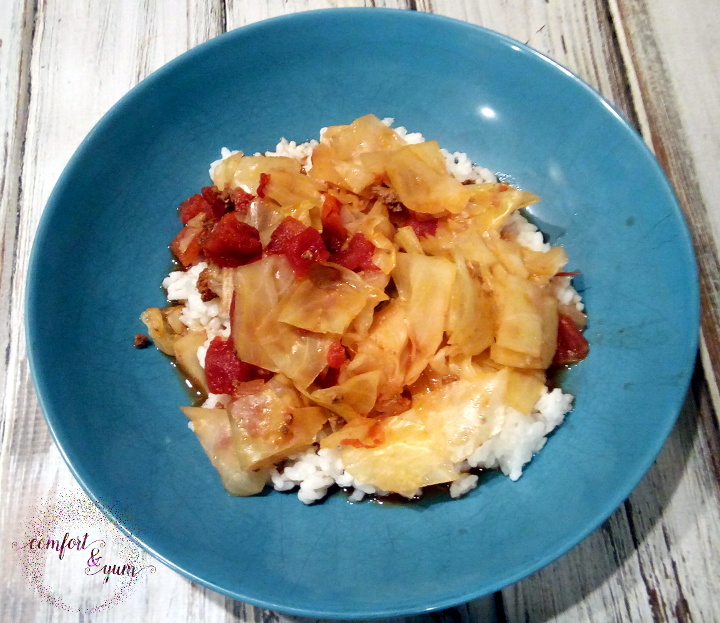 I love cabbage rolls! But, boy, are they a process to make and so time consuming. I've only made them ONCE … just one time was enough for me to know that while I love them, I really have better things to do with my day. And it took all. .day. .long. I first tried cabbage rolls, or  Halupki, at a cookout at a friend's house. His Mom had spent the whole day before making a HUGE pot of Halupki. The Hubster basically dived into the pot — I was torn between embarrassment and laughing my butt off — he's so cute! But when his eyes rolled back up into his head after the first taste of these Halupkis, I figured I'd better take notes and go see what all the hubbub was about. These were traditional Ukrainian Halupki & I asked after the recipe and discovered that there's no herbs & spices added except salt and pepper. They were so tasty with just the flavors of the main ingredients, I don't think it even needs it. Honestly, my kind of food! I refuse to admit how much I ate that day, but I will admit that I did go back for more than one serving!
I've searched and searched for a recipe like the cookout Halupkis because they were so good. Having tried to make them the traditional way,  I knew I needed a way to make the recipe easier. What better way than to make them deconstructed or "unstuffed."
Traditionally, uncooked beef & rice are mixed and wrapped in cabbage leaves. Then the mixture gently steams for hours in tomato sauce until they are tender and tasty. Originally, I tried to keep the recipe traditional — meaning, I just dumped all the raw ingredients together to make it easier and, yeah, that didn't workout too well. What I ended up with  … was mush.
So what I found was if I cooked the meat first and cooked the rice separately — I ended up with the flavor and consistency I was looking for.
I'm only cooking for two people and this recipe makes a HUGE amount, so I sometimes take the leftovers and turn it into Vegetable Beef soup! YAY! Two rib-sticking meals — inexpensive fresh and frozen produce — simple and fast to put together so you have time to do the things you'd rather spend your time doing.
So here's how you make time-consuming halupki (normally, an all-day affair) into quick & tasty unstuffed cabbage rolls.
A Few Points to Consider:
Use a head of cabbage or pre-shredded "cole slaw" mix — your choice. I prefer using a head of cabbage because I can cut larger strips or squares and end up with a bit of a crunch when the recipe is finished. You can use pre-cut cole slaw mix. If you use a cole slaw mix, change the instant pot cook time from 5 minutes down to 1 minute.
Ground beef or chicken or pork — your choice. Meat prices keep going up and sometimes folks want a lesser expensive option over beef. You can use chicken or pork in this recipe. Add beef broth instead of chicken broth and you probably won't even be able to tell there's no beef in the recipe.
Diced tomatoes, crushed tomatoes or tomato sauce — your choice. I like using diced tomatoes, but traditionally tomato sauce was used. I like having the chunks of tomatoes, but if you prefer no chunks, then swap the diced tomatoes for what you prefer.
No spices or add spices — your choice. The traditional recipe this version is based from does not use any spices other than salt and pepper. It's one of the reasons I love it so much. It allows the ingredients to sing in their own voices without being overwhelmed by added flavorings. If you want to add herbs & spices, go ahead.
Homemade broth, store bought broth or bouillon with water — your choice. I pressure-can ground beef as well as all my broths. It's something I started doing years ago and I enjoy doing it. I just like having meat & broth I've made myself on hand for whatever I feel like making. Most people don't have home canned broth and meats available, so this recipe calls for fresh ground beef and just chicken or beef broth. You can use store bought broth or use water with bullion cubes or Better Than Bouillon. If you don't have any broth or bouillon on hand, use water — the broth is not a deal breaker for this recipe.
Tools you'll need for this recipe:
An Instant Pot or other pressure cooker
A large, sharp chef's knife
A rice cooker or pot to cook the rice in
If you don't have an instant pot, use a large pot or dutch oven
Cooking Instructions
Turn your instant pot to saute. When the front panel reads HOT, add 1 tbsp. butter and add ground beef and diced onions. Brown ground beef and saute onions until transparent. Turn instant pot off. Drain grease from pot.
Add broth to beef & onion mix in the IP. Then layer wide cut strips (or large squares) of cabbage on top.
Lastly, add the tomato sauce on top of the cabbage.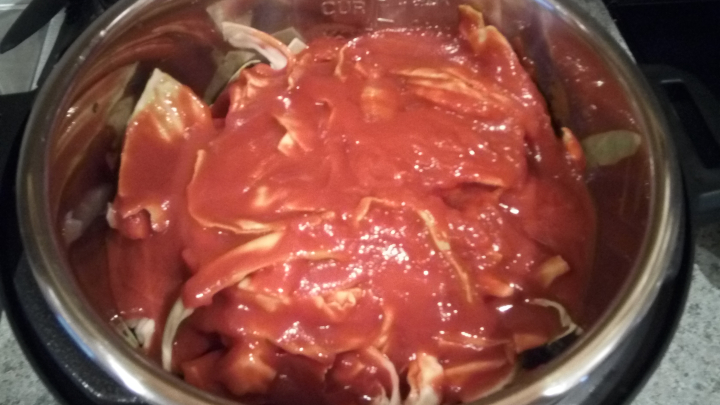 Cook on high for 5 minutes. Do a quick release (QR) and stir.
Serve over cooked rice.
Ingredients
1

lb

ground beef

1/2

sweet onion

diced

1 29-

oz

can diced tomatoes

8

oz.

tomato sauce

1

pint

chicken or beef broth

2

teaspoons

salt

1

teaspoon

pepper

1

green cabbage

chopped into squares

Cooked rice
Instructions
Turn instant pot to saute and when the panel shows HOT, add 2 tbsp. butter, ground beef and onions. Saute until onions are transparent. Drain grease.

Turn instant pot off.

Add tomatoes, tomato sauce and broth to the instant pot. Then layer cabbage on top.

Cook on high for 5 minutes. Do a quick release and stir all ingredients well.

Serve over cooked rice.