I love chicken & dumplings. I crave chicken & dumplings. Before finding this recipe, I could not make chicken & dumplings that were worth eating. And I have to be honest, OK — I just don't want to spend time rolling out dough for dumplings. I want simple … I want tasty … I want dumplings … I want creamy chicken gravy … and I want it NOW!
I started out with a recipe I found by Brandie over at The Country Cook.net and her article shows that she got it from Stacey at SouthernBite.com – it's apparently in Stacey's cookbook because I couldn't find it on their website. So this recipe, in one variation or another, has been tested and enjoyed by a lot of people. Thank you to both Brandie and Stacey for posting this recipe — I can now go into my chicken-n-dumplings coma after eating waaaaay to much for dinner (or lunch … heck, it's even good for breakfast)!
I do a lot of pressure canning. So I always have canned chicken and canned chicken broth on hand. The recipe can use either raw chicken, leftover chicken or canned chicken – whatever you happen to have on hand. You can use store bought chicken broth, chicken bouillon or homemade chicken broth. In my opinion, you will get a deeper, richer flavor when using homemade chicken broth. My chicken broth is almost as dark brown as my beef broth, so it's very tasty. I like using my canned chicken & broth because all I have to do is open the jars and dinner is almost ready.
The original recipe called for fresh onions and celery and the first couple of times I made this recipe, I added them. I once also added some frozen corn. Then I made the recipe when I didn't have any celery and so I left it out and we didn't miss the celery — in fact we liked it better. The next time I was craving chicken & dumplings I was out of both onions and celery (how that happened, I'll never know — I'd blame someone else … even the dog, but we don't have one)!! So I made the recipe without adding onions or celery BUT kept the butter. That's when I knew I had found the perfect combination of savory chicken, glorious buttery, chickeny (is that even a word?) sauce and slightly chewy dumplings that were also a bit fluffy. YUM!
I am not even a bit ashamed to say that I make this recipe about once a week or so. It's one of those meals that I doubt I'll ever get tired of AND it's so easy to make.
Here's what I like about it is:
I can bake it in a single casserole dish
I can mix everything (except the chicken) up in a single bowl using the same whisk & spatula — saving clean up
It's virtually dump and bake!!
When using leftover chicken, this recipe can be whipped up in under 10 minutes and be on the table in about an hour.
The dumplings make themselves!!! YAY! No rolling or spooning or dropping. Trust me, they taste like they took a lot of time & effort.
DO NOT STIR mixtures after they are poured into the casserole dish. Once the mixtures hit the casserole dish, everything is HANDS-OFF. If you stir, you'll ruin your dumplings. Don't make me smack you with a wooden spoon!
Want the BEST reason to try this recipe?? It will feed 4 people for about $2.00 if made with margarine and homemade broth (either home-canned or from when you cooked the chicken) or bouillon and just under $3.00 if you are using dairy butter and store-bought chicken broth. When I make this using both my home-pressure-canned chicken & chicken broth, my cost per recipe is roughly $1.50. This recipe can also easily be doubled and the cook time stays about the same.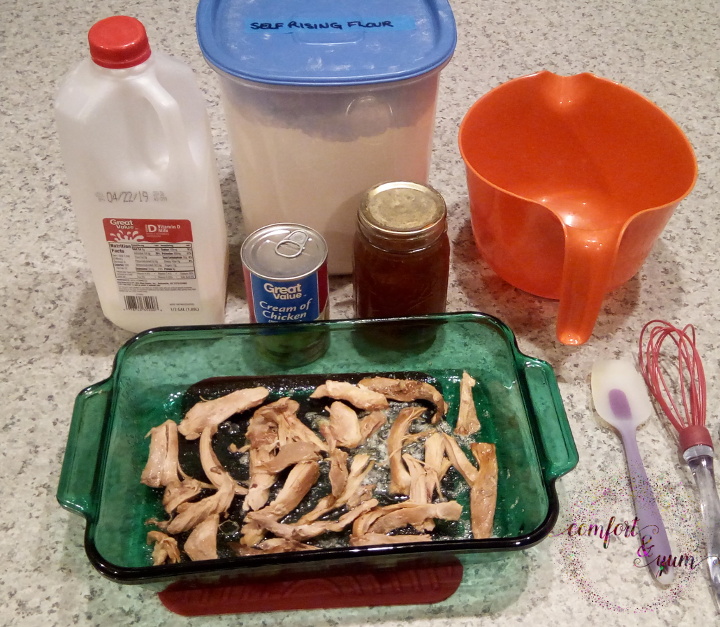 Costs based on purchased made in November, 2019 from Walmart:
$0.50 – 1 can Great Value cream of chicken soup
$0.13 – 1 cup whole milk
$0.07 – 1 cup Great Value self rising flour
$1.20 – 2 cups chicken meat (less if home-pressure-canned)
$0.05 or $0.61 – 2 cups homemade or store-bought broth
$0.13 or $0.46 – 2 tbsp margarine or butter
TOTAL RECIPE: $2.01 to $2.97
If you are starting with raw chicken pieces (breast or thighs are best), you can use a medium pot on the stove . If you boil the chicken, use at least 1-1/2 to 2 cups of water in the pot and cook the chicken until it's fall-off-the-bone tender.
When I cook chicken in the Instant Pot, I use 1-1/2 cups water and cook on Manual for 25-30 minutes and then do a natural release so the chicken doesn't end up tough. When the chicken is done, you should have 2 cups of chicken broth in the bottom of the pot, so you won't have to use store-bought unless you just prefer to. Remove meat from the pot and chop or shred. Reserve 2 cups of the broth.
Preheat your oven and place 2 tbsp of butter in your casserole dish and set in the oven to melt.
While the butter is melting, get out a medium sized bowl and a whisk. Mix your self-rising flour and milk until all the lumps are gone and the mixture is silky smooth.
A NOTE ABOUT SELF-RISING FLOUR: Buy a bag … just do it. The convenience is worth it, so is the taste. And that's coming from someone who's never … NEVER owned a bag of self-rising flour in her life … until I started using this recipe. Now, I won't be caught without it. (I'll show other recipes that use self-rising flour — like Cuppa Cuppa Cake — those will be coming soon). Buy . self-rising . flour.
Using oven mitts (the casserole dish will be hot), pull the dish with melted butter out of the oven. Sprinkle your chopped or shredded chicken evenly over the butter.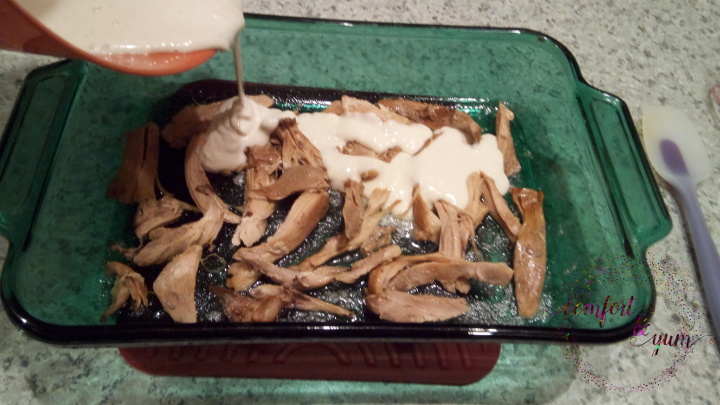 Pour the flour/milk mixture evenly over the chicken & butter. Use a spatula/spoon to get all of the mixture out of the bowl. DO NOT MIX!
In the same bowl, combine your cream of chicken soup and chicken broth. Mix well using a whisk. Pour mixture evenly on top of flour/milk mixture. Use the spatula to scrap out everything. DO NOT MIX!!
Now, I know it sounds crazy, but you have to trust me. Using oven mitts, place the casserole dish back in the oven and cook for 40-45 minutes.
DO NOT MIX!
Do not complicate this recipe
Put it in the oven and walk away
The dumplings will make themselves while you are off doing other important things — like relaxing, playing with the kids or dogs, having a glass of wine with friends or The Hubster.
When the timer goes off, you will have country chicken & dumplings so good that they will put you into a coma of buttery, creamy chicken & dumplings goodness.
Serve in a big bowl and enjoy!!
Easy Chicken & Dumplings where Dumplings Make Themselves
Ingredients
2

tbsp

butter

2

cups

diced or shredded chicken meat

1

cup

self-rising flour

1

cup

milk

2

cups

chicken broth

1

can cream of chicken soup

salt & pepper

to taste
Instructions
Preheat oven to 350F degrees.

Place butter in a 9×13 baking dish and put in the heated oven until the butter melts.

Remove pan from oven and add the diced/shredded chicken in a layer on top of the melted butter.

In a mixing bowl, combine self-rising flour with milk. Pour this mixture over chicken (do not stir the layers.) Use a spatula to scrape out all the mixture.

In the same bowl, combine the chicken broth with the cream of chicken soup.

Pour this mixture over the chicken. Do NOT mix the layers.

Bake for about 40-45 minutes or until the dumplings are set and the gravy is bubbly.
Notes
This recipe can be doubled - cooking time remains the same.
Share this recipe on Instagram!!
Pin this Recipe to Pinterest!