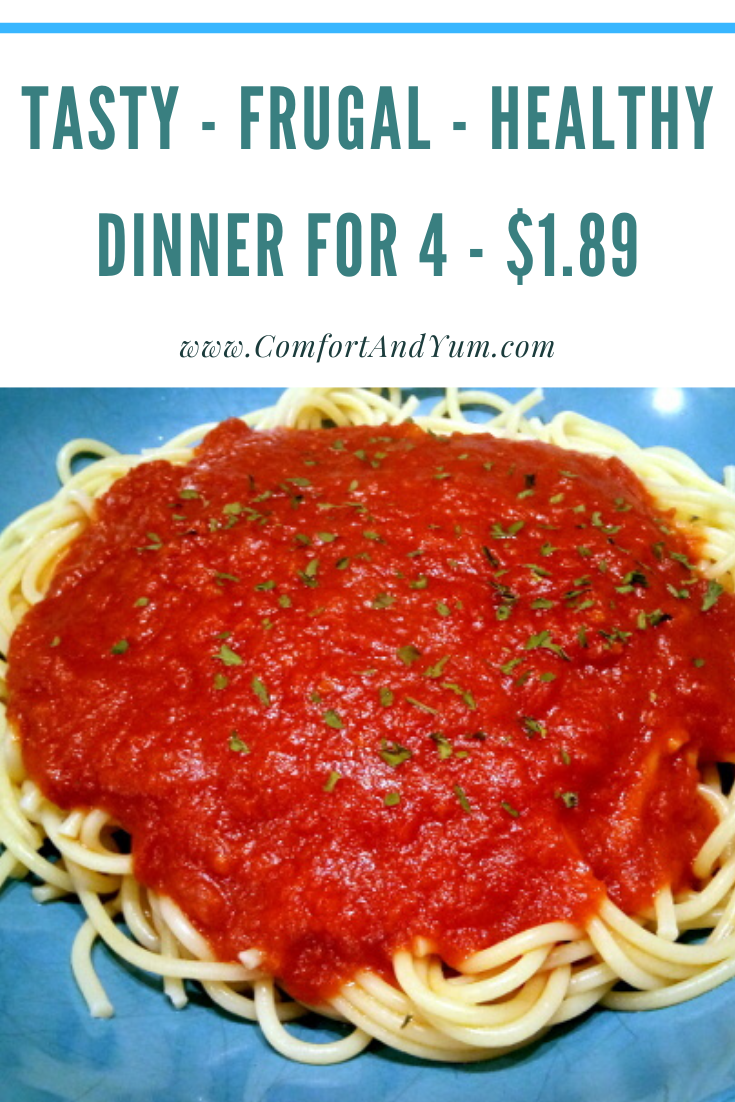 Tasty food doesn't have to be expensive or contain expensive ingredients. Filling, healthy food also doesn't need 40 ingredients – half of which I can't pronounce.
I love simple, easy recipes! Here's one of our favorites!
This easy-to-make meal costs a measly $1.89 for 4 good-sized servings. And it only contains 3 ingredients. Not kidding!
This isn't my invention, it's been around for quite awhile. I found it on the internet and didn't believe it could taste better than my own spaghetti sauce — but it did! I'm talking about Marcella Hazan's Tomato Sauce.
If you are frugal or trying to feed your family on a budget, I encourage you to give this recipe a try. The recipe that I originally found used fresh tomatoes or San Marzano canned tomatoes. I have tried this recipe with fresh tomatoes, San Marzano tomatoes, Walmart brand (Great Value) whole tomatoes and Walmart brand crushed tomatoes. We honestly didn't think that the taste difference was worth the aggravation or cost. Fresh tomatoes have to be peeled and you don't know exactly how long the sauce needs to cook because some tomatoes have more juice and are less meaty than others.  San Marzano tomatoes cost $3.28 for a 28-oz. can compared to the Walmart brand which costs $0.67 for the same size can. My frugal brain just isn't able to make the leap that San Marzano tomatoes taste $2.61 better (which is more than the entire recipe costs if done my way).
I use real butter and I buy most of my ingredients at Walmart. The spaghetti costs $0.50 per lb. when you buy their 4 pack. I use Walmart's Great Value Crushed Tomatoes instead of whole tomatoes because I like the finished consistency better. I also use sweet onions instead of yellow onions because I like them better and always have them on hand. Many people use yellow onions.
28-oz can Crushed Tomatoes — $0.67
5 T Butter — $0.47
1 medium sweet onion — $0.25
1 lb. spaghetti pasta — $0.50
Recipe Total Cost: $1.89
This is not our favorite meal because of it's price, but because it's just so darned tasty.
Do me a BIG favor. You are going to be tempted to add "stuff" to the recipe. Don't deny it — I know you are already thinking of stuff you want to add. Don't do it. DO NOT be tempted to add anything to this simple recipe. No garlic, no spices … nothing. Try it exactly as written first. You'll be amazed that it doesn't need anything else.
Here's what you do — it takes 2 minutes. Pour the 28-oz. can of crushed tomatoes into a sauce pan with 5 tablespoons of butter. Peel an onion and cut it in half and add it to the pot. You are basically done except of an occasional stir of the pot and cooking the pasta.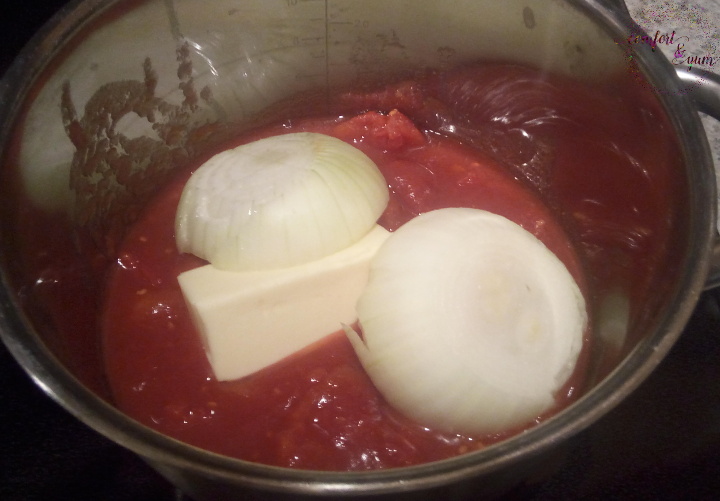 Once the sauce has been simmering for 45 minutes, remove the onion pieces and throw them away or use them in a different recipe. Then pour the sauce over pasta and enjoy!
Marcella Hazan Pasta Sauce
The tastiest meal for 4 you'll ever try.
Ingredients
28-

oz

can of Walmart Great Value Crushed Tomatoes

5

tablespoons

butter

1

onion

peeled and cut in half

Salt to taste
Instructions
Combine the tomatoes, butter and the onion halves in a saucepan. Add a pinch or two of salt.

Place over medium heat and bring to a simmer. Cook, uncovered, for about 45 minutes. Stir occasionally, keeping onion pieces with the cut sides down in the sauce as much as possible.

Discard the onion before tossing the sauce with pasta. This recipe makes enough sauce for a pound of pasta.
Share on Instagram!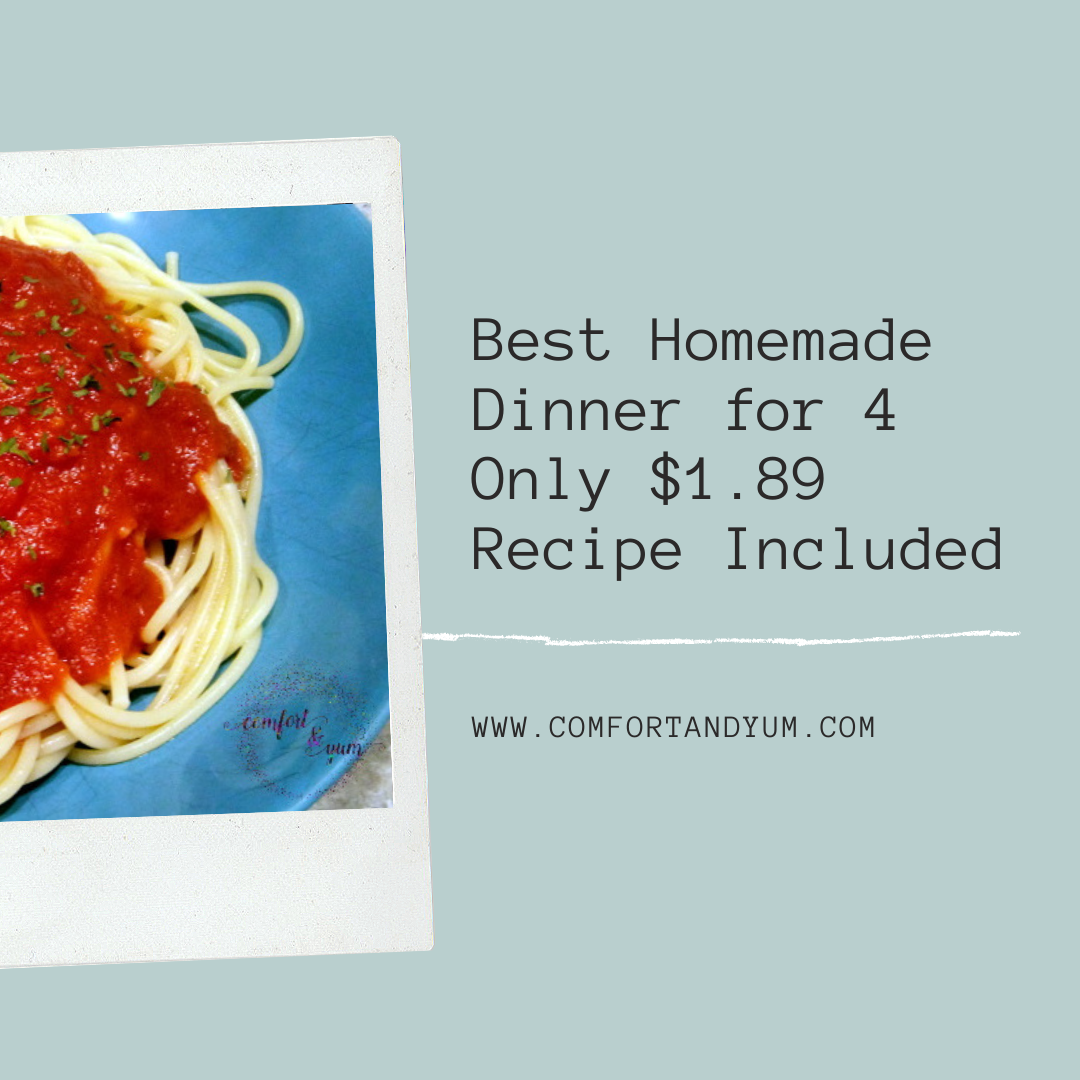 Pin to Pinterest!