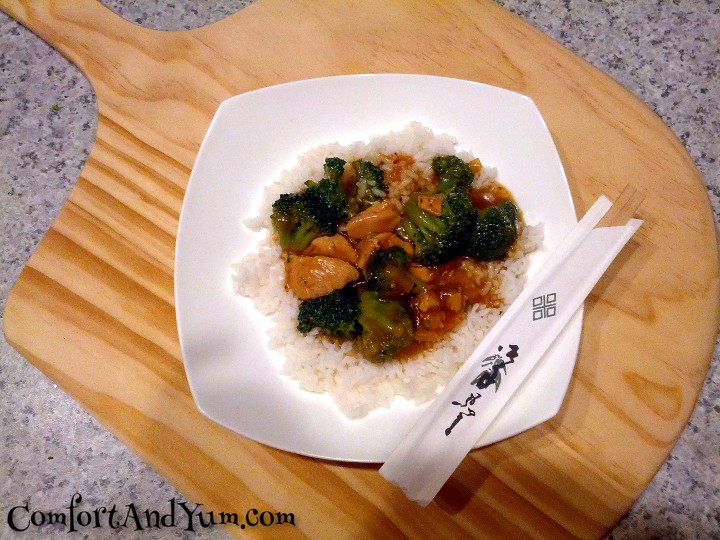 I love the convenience of Chinese Take-Out! There's nothing more exciting than when the doorbell rings and we get to take all those awesome little cardboard chinese food boxes out of the bag. The smell that fills the kitchen is just heavenly. I think one of the reason that Chinese food tastes so good is because I didn't have to cook it! I don't have to clean up the kitchen afterwards and I can eat it right out of those cute little cardboard boxes with chopsticks like they do on TV! Yeah, yeah, I'm so easily amused!
I've looked for a long time to find a Chinese Chicken with Broccoli recipe. It seems like there are always Beef with Broccoli recipes to be had, but it just never occurred to me to change the protein. I found a recipe a few years ago for "Chinese Brown Sauce" and filed it away. Talking to the proprietor of a very nice Asian restaurant here in town I learned that there are two main sauces used by a typical American Chinese Take-out restaurant: a brown sauce and a white sauce. So I dug through my recipe stash, found that recipe, added the ingredients I enjoy when I order Chicken with Broccoli from my local Chinese take-out place and, "By George, I think she's got it!"
First you'll want to trim the fat off of your chicken breast and thinly slice it. If find it's easier to slice the way I want it if the chicken breasts are slightly frozen and I'm using a really sharp serrated knife (of course). Julienne your onion (or just slice so they end up in long strips — no need to get fancy) and cut your carrots into slices at a 30 degree angle for that really cool chinese take-out look. And as a side note, cutting the carrots at a 30 degree angle allows the carrot to cook faster so you can add them at the last minute so they are still crunchy but not raw! Sweet, right? If you use frozen broccoli, defrost it and cut off the ends and cut the larger crowns into bite size pieces.
I have a rice steamer and it makes the best rice ever! So while I'm preparing the chicken with broccoli, my steamer is taking care of my rice for me.
Once everything is finished, ladle the chicken with broccoli mixture onto your steamed rice and enjoy!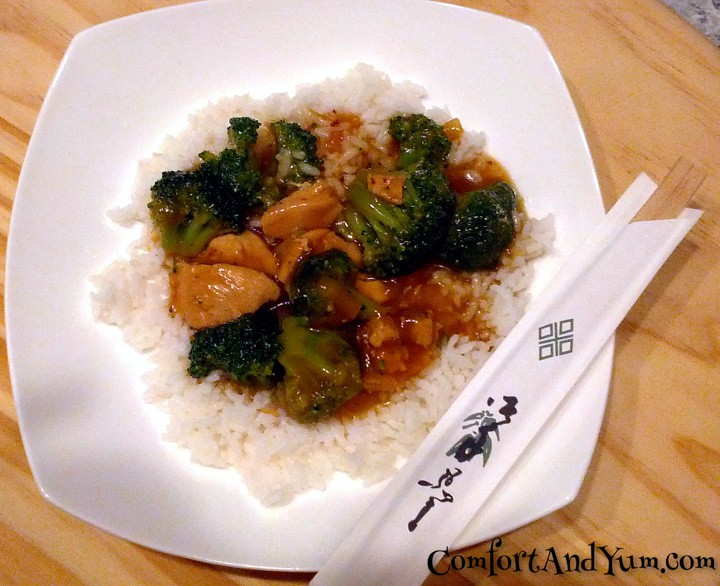 Chinese Take-Out Style Chicken with Broccoli
Recipe Type
:
Asian Inspired
Author:
Prep time:
Cook time:
Total time:
Talking to the proprietor of a very nice Asian restaurant here in town I discovered that there are two main sauces for your American Chinese Take-out food: a brown sauce and a white sauce. So I dug through my recipe stash, found a recipe I had for Chinese Brown Sauce and, "By George, I think she's got it!"
Ingredients
1 T. Olive Oil
1 boneless, skinless chicken breast or 2 halves, thinly sliced
1 to 2 tsp. minced garlic or 1/4 to 1/2 tsp. garlic powder
1/2 cup soy sauce
1/3 cup brown sugar
1/4 tsp. ground ginger
1/8 to 1/4 tsp. red chili flakes
3 cups chicken broth, divided
1/2 sweet onion, julienned
2 carrots, sliced at 30 degree angle
16 oz. frozen broccoli crowns
4 T. corn starch
4 cups cooked rice
Instructions
Get your rice started cooking — it will be finished about the same time as the chicken
In a large frying pan, lightly brown chicken breast slices in olive oil
Add garlic, soy sauce, brown sugar, ginger, chili flakes and 2-1/2 cups chicken broth to chicken. Stir to mix
Simmer on low for 15-20 minutes until the chicken is done and flavors have had a chance to meld
Add broccoli and carrots and combine well
In a small bowl, combine remaining broth with cornstarch
Bring chicken and sauce mixture to a boil. Remove from heat and then add the broth and cornstarch mixture evenly to the pan. Stir quickly to thicken the sauce. Once everything is well combined, return to low heat. Continue stirring until sauce is desired thickness
Serve over cooked rice
Prep time does not include thawing time for chicken or broccoli