Day 1
Can I just say, black coffee is GROSS!!! I'm talking "wipe your tongue off with a towel" gross.
I admit I added a smidge of hazelnut coffee creamer to my cup. I'm not proud of that. But, hey! Don't want it to go to waste … yep, that's my story and I'm sticking to it. Ahhhh, much better. I'll try again tomorrow.
Last night I made our first Carnivore dinner. It consisted of 2 pork chops and 2 hamburger patties plus a couple of slices of bacon for each person. I used only kosher salt to season with and I used butter to cook everything in. I drank filtered water that I carbonated myself with our Soda Stream machine. I ate until I was "comfortably stuffed" as per Dr. Berry's suggestion. I didn't pay attention to how much I was eating, just that it was only meat and bacon.
I didn't crave anything else. I was satisfied. I was full. I was happy.
Then I went in to measure myself. That wasn't as bad as I was afraid it would be. Although it did confirm my suspicions that I'm built like a rectangle. My bust, waist and hip measurements are basically the same … maybe an inch difference. I had also weighed myself that morning and I recorded all of it in my journal. I'm not ready to divulge numbers yet, but once I see how this is going to work for me I may reveal all if it will motivate people to try this for themselves.
Today  I've arranged to go shopping at Costco with a friend. I plan to do some serious (for me) meat shopping. She's not aware of my potentially crazy new food plan … I'm filling her in on the ride over. I'm hoping she's not going to turn the car around and take me straight home!
Costco on a Thursday morning is quite nice. I've never been to Costco when it wasn't a zoo. Even the check out line was non-existent. The sticker shock almost floored me … and I was prepared to spend a bunch.
We always eat lunch at Costco. Their hot dogs are TO DIE FOR!! Costco <– never stop selling those! I was very proud of myself. I ate the hot dog with no bun and I found the soda water button on the Pepsi Machine and drank that. Before I get comments about how hot dogs are not good for me. Hot dogs are not the best food, I agree. If Costco offered steak, I may have ordered that, but these hot dogs are all beef with very little fillers and they taste great. My new philosophy is: if eating a hot dog keeps me on the Carnivore Diet instead of eating non-meat — then I'm eating the hot dog. Your mileage may vary – it's your car.
Because I'm a frugal shopper, I have a stock of pork, chicken and turkey in the freezer. I have a couple of beef roasts and some ground beef too. But I wanted to grab a few things anyway. As a side note, I plan to blog about how to do Carnivore on a Budget. If I plan to stick with this … and currently, that's the plan, then I'm going to want to know how much this WOE (way of eating) is costing us per meal and per week and per month.
Costco
So, at Costco I bought a couple of packages of inexpensive beef roasts. I know I'm supposed to eat fatty beef, but I just don't have $10-$12 per pound to spend on ribeye. I'll start looking for sales and buy them when they are cheaper. I'll have to "fatten" up the beef I'm buying with butter. Can't beat butter for the world's best dipping sauce! I bought some butter and some awesome bacon.
I mean, seriously, look at this bacon … it's so awesome!!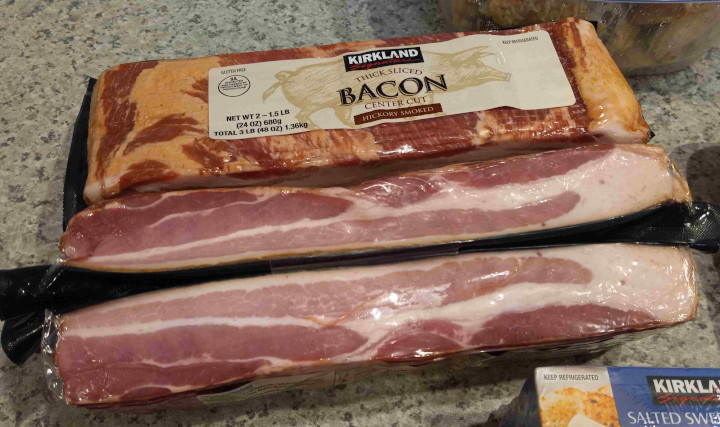 I immediately put the Langostinos into the freezer, so they didn't make it into the first photo. I'm really looking forward to these!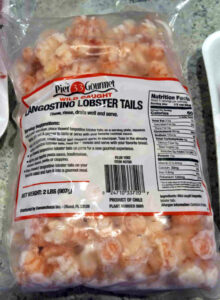 I also immediately opened the bag of frozen chicken wings and bakes them all up so they'd be ready for when we wanted to chow down on them. Here's what one container of them looks like … the other container is gone! They were tasty!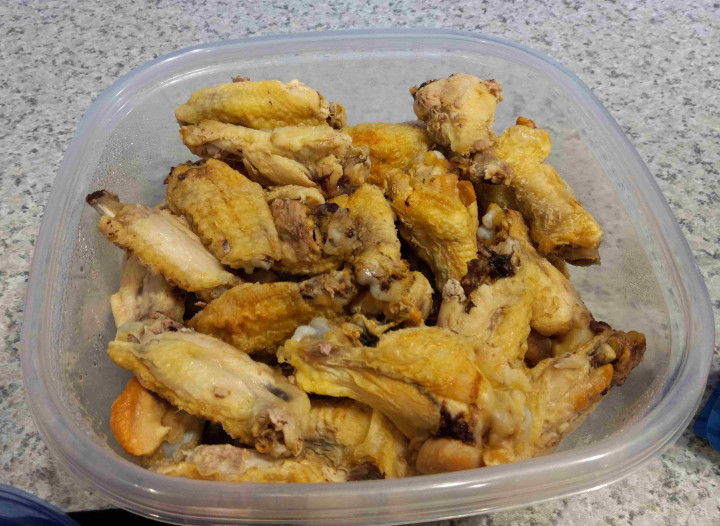 Wholefood Market
After the expensive visit to Costco, we dropped in to Wholefood Market to buy some Redmond Real Salt. Not sure why, but it's the only store in town that carries it. Even Wegman's didn't have it! It's highly recommended and since I needed salt anyway, I decided to splurge and buy Redmonds.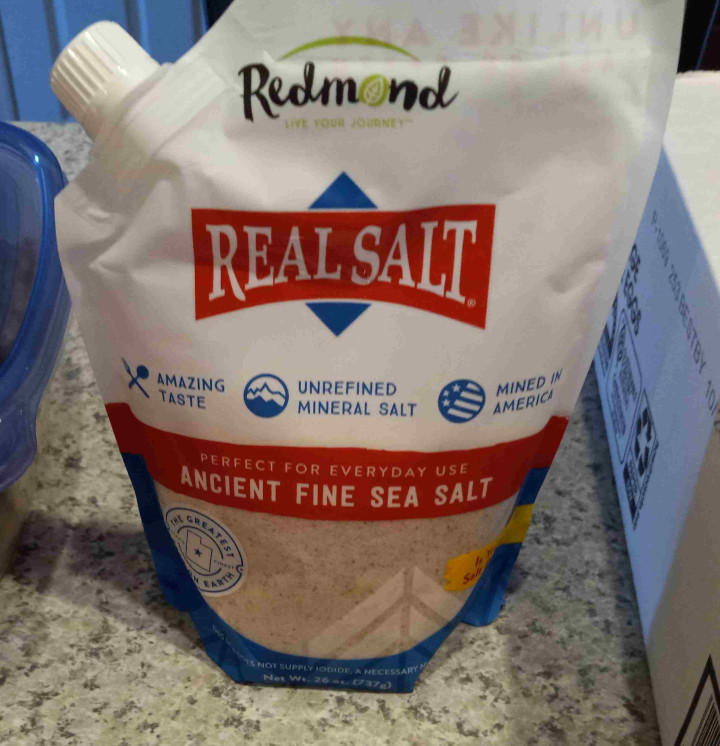 Walmart
I needed more eggs. The Hubster normally eats 3 eggs every morning for breakfast, plus all the eggs I use for egg salad and deviled eggs. Not to mention all the baked good I used to make. So I always bought the 60-count egg box from Walmart because I didn't have to go back to the store to buy eggs every other day or so. So, I went over to Walmart for some eggs and a bottle of No-Salt, which is potassium, for when I need electrolytes.
Aldi
My last stop was at Aldi. I ran in to grab a couple of things. I wanted to pick up some Pork Rinds and some Knackwurst. They were totally out of the knackwurst, so I grabbed a bunch of bags of pork rinds and called it a day. Why pork rinds? Well, they make a tasty snack, plus they also work as the "bread" for foods like egg salad and chicken salad that are normally eaten as a sandwich or a salad. I don't mind eating chicken salad or egg salad with a fork, but The Hubster doesn't agree. He wants something to carry the salad to his mouth and pork rinds are about the only thing that's considered Carnivore. Bread certainly isn't.
Good Beginning
So, I think this is a pretty good beginning. I don't know how much we'll end up eating per sitting. I have no idea how long this food will last or when I'll need to go shopping again. I'm just going to take this one day at a time. So far … so good!