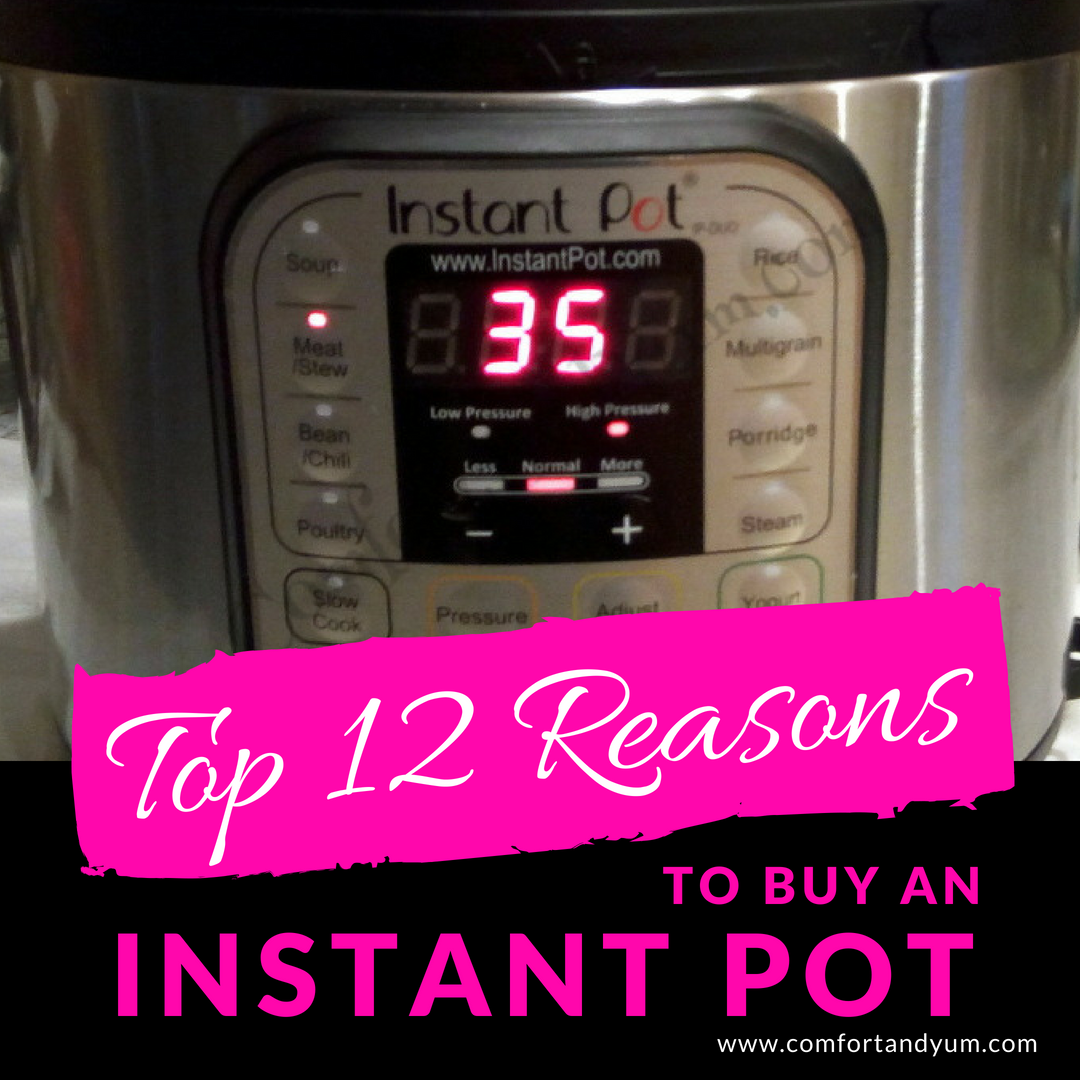 The Instant Pot … queue heavenly choir of angels here … is so awesome I had to write a whole post about it.
I normally write about the stuff I sell or crafty stuff or how to save money or yummy food, but I rarely never write about kitchen equipment.
In one of my earlier posts, I mentioned that 2016 and the holiday season of 2017 were completely (the certifiable, strait-jacket type of) crazy. We were so busy we didn't have time to update the blog, post on Facebook (gasp!), figure out Instagram, buy Christmas presents, decorate the house or eat decent food until … queue heavenly choir of angels AGAIN … we invested in an Instant Pot.
I'm talking about one of these guys.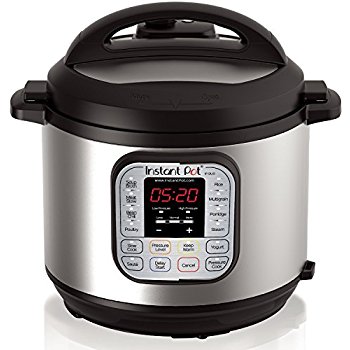 Why is the Instant Pot so awesome? Well, let me 'splain.

One of the main reasons I bought the Instant Pot was because I never remembered to defrost food so I could make dinner. We were too tired to go out to eat, too tired to go pick something up, shoot we were almost too tired to eat. So I'm dragging my worn out self to the kitchen to try and make dinner to discover everything worth eating is FROZEN! It happened so often, we actually resorted to convenience foods for awhile. I'm not sure I can look a frozen pot pie, chicken plank or soup can in the eye ever again. Even then, we ended up eating after 9 PM most nights. Not a nice way to treat your tummy — mine was disgusted with me for months!
The Instant Pot cooks frozen food directly from the freezer!! When I read about that, I almost cried tears of joy. I got an Instant Pot during Amazon's Cyber Monday in 2016 and I cannot tell you how our lives have changed since then.
When the box arrived, I immediately opened it, sat the Instant Pot on the counter, stared at it for a few minutes then went and got a glass of wine. Even though I use a pressure canner almost every week, that little sucker was intimidating. So, I went for reinforcements. I decided The Hubster would need to be there with me (for moral support and for me to stand behind) when I did The Water Test. After the water test went smoothly, I relaxed and realized the Instant Pot was just like any other kitchen appliance — only cuter! I immediately grabbed a frozen boneless chicken breast and dumped it in the pot with water and dumped a can of Cream of Mushroom soup on top to see what would happen.  All I did was dump, poke a button and leave the kitchen until it beeped. I came back to amazing succulent, moist & tasty chicken with a soup-based sauce that made itself in the pot while I was in the other room doing "stuff." I was hooked!
When I'm not overwhelmed with orders from the business, I enjoy cooking. But, to be brutally honest, I don't want to spend all my free time in the kitchen making lunches and dinners. I'd really like to relax and enjoy my free time elsewhere. Another major point for the Instant Pot … queue that choir again … is that I can "set it and forget it!" I can put whatever I'm making for lunch/dinner in the pot, walk away and do something else while the food cooks. When the pot beeps, dinner is ready! If I don't come get it right away, the Instant Pot keeps it warm for us (without burning it or drying it out) until I go and open the pot and serve the meal. How great is that for all of the multi-taskers out there. Oh, and did I mention … one-pot-clean-up????? Where's that choir? We need a Hallelujah … and an Amen!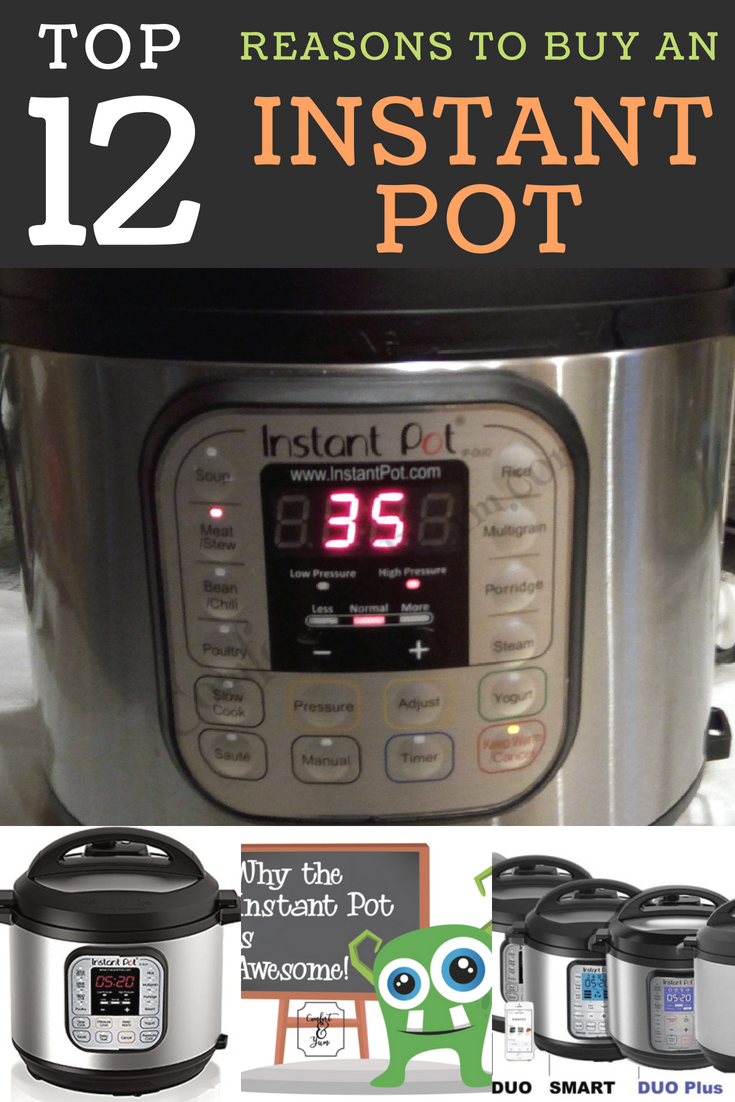 12 Things the Instant Pot Does Well
Cooks meats & meals directly from the freezer to the table.
Makes really good yogurt
Makes Bone Broth in under 6 hours without smelling up my kitchen
Makes inexpensive and tough cuts of meat fall-off-the-bone tender
Cooks all types of beans super fast with no soaking necessary
Makes one-pot meals — including using uncooked pasta — in under 10 minutes once pressure has been reached
Makes the best risotto (EVER) with no constant stirring
Can be used as a double-boiler – I use it for dipped chocolate, lip balm & lotion recipes
Makes a mean cheesecake without the need for a messy waterbath
Automatic Keep Warm feature ensures that your meal stays hot until you are ready to serve it, and does it without burning your food or drying it out
One pot to clean after making (usually) a whole meal. So much better than 2-3 pots!
It's Travel-Friendly. It's great for vacations, glamping & dorm rooms. If you are planning a trip, but your hotel doesn't have a full kitchen, then take your Instant Pot on the road with you. It's small, easy-to-clean, fits on a small countertop and makes great one-pot meals while the family (including you) is off doing something else.
BONUS! 13th Reason: It will cook up to 2 pounds of crispy bacon at once without creating a spattered mess on your stove top or oven! (They'll be curly instead of flat, but who cares! It's bacon without the mess!!)
Just as there are situations where the Instant Pot is the best kitchen appliance on the planet, there are times when you should really consider using a different cooking method. The Instant Pot will not replace your stove, oven or grill. It has it's limitations, just like any other kitchen appliance. You wouldn't expect to use your gas grill to make soup or to defrost a roast. I guess you could, but it wouldn't be your first choice or even your second. Just as you wouldn't use your oven to make risotto, there are things you really shouldn't cook in your Instant Pot.
What the Instant Pot Shouldn't Be Used For:
If you want it crispy, crunchy or browned on top don't use the Instant Pot
If it's a quality piece of steak, use your grill, pan fry it or use your broiler – the Instant Pot won't do it justice
Seafood is another item that should be cooked on the stove or grill — flounder, tilapia, scallops, clams, lobster, crawfish, crab, etc. are very delicate and generally need a more gentle cooking approach. There are a few exceptions. Some cuts of fish do well in the Instant Pot. We make cod loins and salmon in the Pot and they turn out flaky and cook really fast (yes, even from frozen). Some shrimp dishes also turn out well – especially ones where the shrimp is only cooked for a minute or two or is added then sauted at the end.
Some things take just as long in the Instant Pot as they do on the stove or oven. Determine which you prefer. In the summer, I use the Instant Pot for meals I normally cook in the oven. In the winter, I'll probably use the oven and take advantage of that bit of extra heat in the house.
You cannot, under any circumstances, pressure CAN in an Instant Pot. If you want to preserve/make shelf-stable food for long term storage you MUST use a stove top Pressure CANNER. The Instant Pot is not able to maintain a stable pressure at the PSI required for the length of time required for safe canning. If you are going to go to the effort to preserve food, do it safely so you don't waste your money or make someone sick.
Overall, I'd have to say that my life has changed — for the better — with the purchase of an Instant Pot. I discovered I used mine so much I actually needed a second pot! If an Instant Pot is in your budget, I highly recommend buying one. I put the Instant Pot in my Amazon Wish List (the 2nd one) and kept my eye on it until it went on sale before I bought it. No sense in paying full price, right?
I have not been paid by Instant Pot or any other company for my review nor have I been compensated with products in exchange for this review.