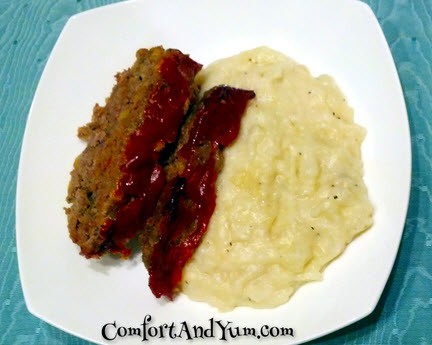 It's hard to believe,but YES! Virginia, there is three-ingredient meatloaf! Meatloaf that is moist, flavorful and dog-gone easy to make. It only has 3 ingredients. I don't count the water or the ketchup that goes on top as the topping is optional. The only thing to say is, "YUM!"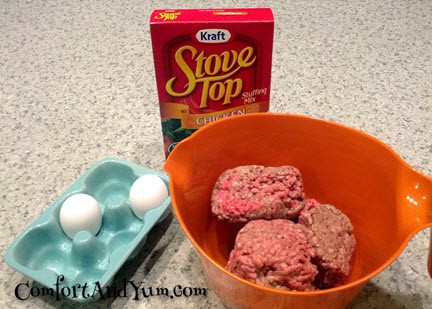 Let's start with our 3 ingredients … drumroll, please!
Ground beef (or you can use a meatloaf mixture of ground beef and ground pork). I just use what I have on hand and that is usually 80%/20% ground beef.
Eggs
Stove Top Stuffing. Our favorite is Chicken, so that's what I use.
Technically, I now use a homemade copycat Stove Top stuffing mix. I like knowing what I'm eating, so if I make my stuffing mix by hand then I know there are no preservatives in it. It's also lesser expensive to make and just as tasty. According to the Hubster, the ONLY stuffing is Stove Top stuffing and I tend to agree with him here. When you are making comfort food, you just have to use what you love (even if it does come in a red box)!
Dump the ground beef, stuffing mix and eggs into a bowl and add a cup of water.
Now it's time to get dirty! Mix everything together — I use my hands (ok, I wear gloves) and it doesn't take long at all.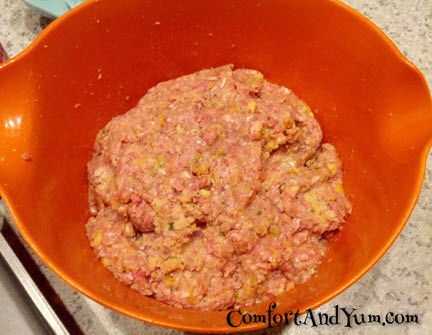 I put my meatloaf into a loaf pan, but you can get creative. I've also used mini loaf pans as well as muffin tins. I especially like the muffin tins as then they are easy to pop into a lunch container. I normally spray the pan with a bit of coconut oil spray. That way I know the meatloaf will come right out and the pan will be super easy to clean.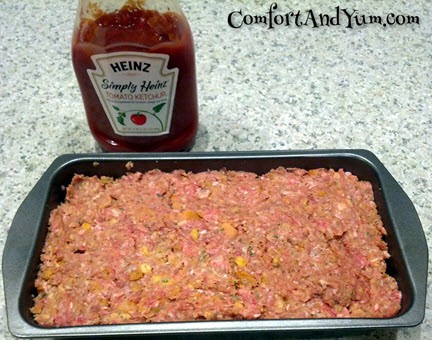 Once the meatloaf mixture has been pressed into your loaf pan, it's time for the topping. The topping is optional, but I love that extra zing that the caramelized ketchup brings to the meatloaf. I'm sure there are healthier toppings, but we are talking about meatloaf here — there are just some things you don't mess with!
I do use the Simply Heinz ketchup, which is made with sugar instead of high fructose corn syrup. I feel a little less guilty already! Now, let's pop it into the oven.
After the meatloaf comes out of the oven, I usually let it rest for about 10 minutes. Then slice and serve with homemade mashed potatoes.
Yum!
Three Ingredient Meatloaf
Recipe Type
:
Comfort Foods
Author:
Prep time:
Cook time:
Total time:
It's hard to believe,but YES! Virginia, there is three-ingredient meatloaf! Meatloaf that is moist, favorful and dog-gone easy to make. It only has 3 ingredients (not counting the water or the ketchup that goes on top! The only thing to say is, "YUM!"
Ingredients
1-1/2 lbs ground beef
1 (6 ounce) box Stove Top stuffing mix
2 eggs
1 cup water
Ketchup (optional)
Instructions
Preheat oven to 350°F
Mix first 4 ingredients
Spray loaf pan with cooking spray — I use Coconut Oil Spray
Fill pan with meatloaf mixture
Top with ketchup and spread evenly over top
Bake for 45 minutes
Allow to rest for 10 minutes before slicing