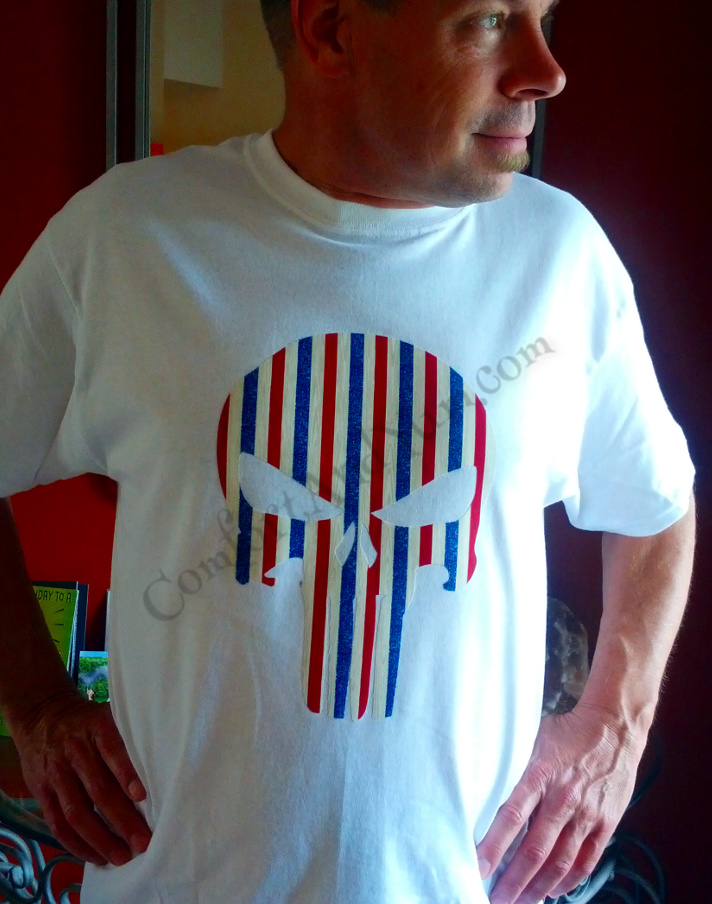 I promised that I'd show off The Hubster wearing his Punisher t-shirt and here it is!
He wanted something a bit patriotic for the 4th of July, but also something that he could wear throughout the year without it screaming, "Hey, I Am A 4th Of July T-Shirt Being Worn in November!"
So I went off to Joann Fabrics to see if I could find some distressed red, white & blue patterned fabric. I didn't find exactly what we wanted, but it was the 3rd of July, so I didn't have a lot of options left — you know how it is … the shoemaker's children rarely had shoes!
I ironed Wonder-Under to the back of the patriotic fabric and then removed the backing. Once the backing was off, I placed the fabric (wonder-under side down) onto my machine's cutting mat and got it ready to go.
I found a great cutting file for the Punisher and loaded it into my Silhouette Cameo and the fabric cut like a dream. I will never, ever go back to cutting out detailed images for t-shirts, etc. by hand ever again!
Then we ironed the image onto a plain, white t-shirt. It's what I had on hand and what he said he wanted … SOLD! Total time to make this t-shirt (not counting the time spent going to buy the fabric) was about 30 minutes. That includes prepping the shirt, ironing the Wonder-Under to the fabric, cutting out the design and ironing the design onto the shirt.
Next time I do a Punisher t-shirt, I think I'll make the eye sockets glow-in-the-dark! Or I'll either put a solid color around and/or underneath it or make it on a black t-shirt – a lot of the detail was lost due to the white background.