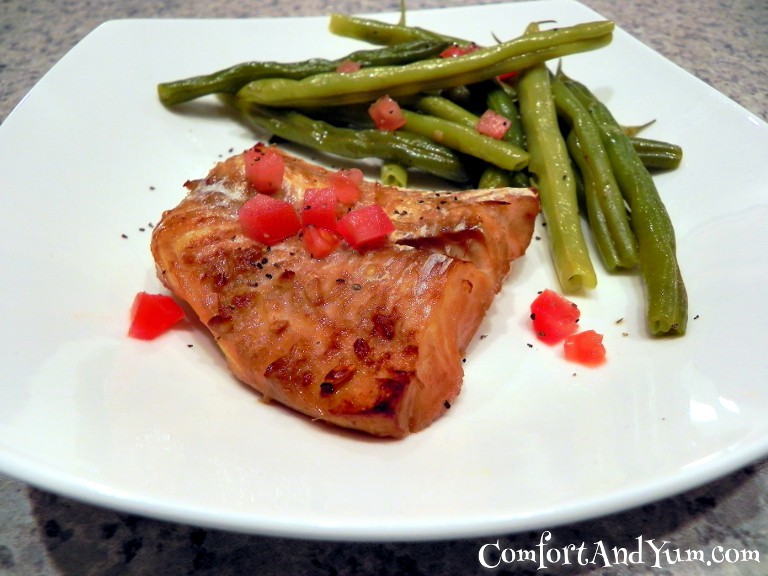 I have a confession to make — I am a messy cook. Any day I'm able to finish cooking a dish without the kitchen looking like a bomb exploded is a very good day! And I may have mentioned a time or three that I like really, really simple recipes and great tasting food. Adding in a quick clean up after all the cooking and eating is done is truly icing on the cake!
So what does all this confessing and raving have to to with cod?? I'm glad you asked!
I was browsing over on Foodgawker (admit it, who doesn't browse — and drool — over on Foodgawker??) and found a recipe for Salmon Teriyaki that looked really good. So I went over to see how complicated the recipe was. Noha has the right idea — she marinated AND baked the fish all in the same pan. I knew I had to try this! To see the salmon recipe that inspired mine, click here.
We are simple fish eaters here at Comfort & Yum.  … OK, truth — we are really fish-stick-with-tartar-sauce-&-ketchup kind of people. That being said, getting The Hubster to eat salmon is like asking him to wear a pink tutu. It.Ain't.Happening. We are cod & tilapia people. Nice flaky fish that doesn't … well … taste like fish. So I dug out some nice cod fillets, rolled up my sleeves and went to work!
Lay out your Cod fillets and trim them as necessary. If you've purchased a large fillet, cut it down into single serving sized pieces. Make sure they will fit into the pan you intend to marinate them in as after you add the marinade, the fish will stay right where it is until you serve it!
Set the fillets to the side. Pour and mix all of your marinade ingredients right in the pan. If you prefer, you can mix the marinade in a mason jar. Add all the ingredients, screw on the lid and shade to blend and then pour the marinade over the cod fillets. I threw all caution to the wind and added the marinade ingredients right in the pan — one less thing for me to have to wash! YAY!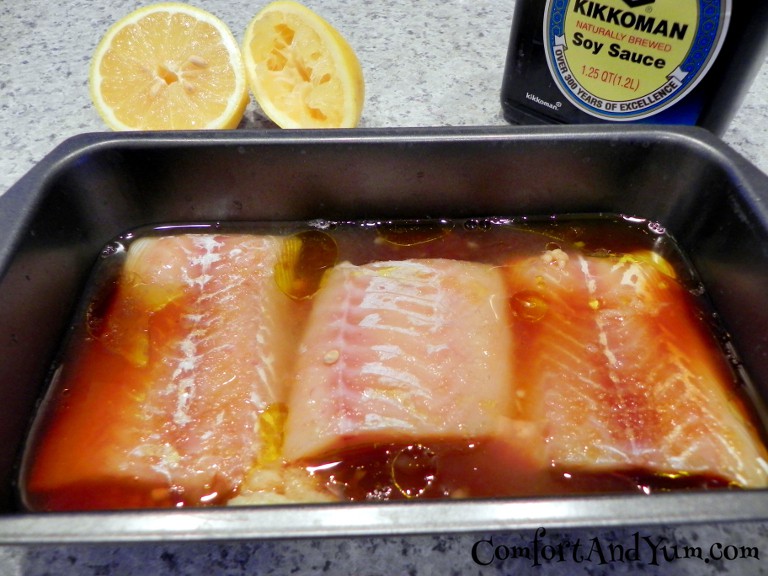 Cover the pan with cling wrap and put the pan in the refrigerator for at least 2 hours. I checked the pan after an hour and it definitely needed more time. Next time I make this dish, I think I'll start the marinade earlier to give the fish about 4 hours. I loved the flavor and I feel it needed just a bit more of it. About half way through I flipped the cod fillets over so that both sides got the benefit of sitting deep in the marinade. This is especially important if the marinade doesn't completely cover the fillets.
Now all you have to do is remove the cling wrap and bake in the over for 25 minutes. Since my smoke detector and my broiler are still not on civil speaking terms, I finished the last 10 minutes of top broiling in my toaster oven. The last-minute broiling isn't required, but it does a great job of caramelizing the marinade and gives the fish a nice finish.
Now it's time to enjoy your Cod Teriyaki with some fresh green beans, asparagus or a green salad. Yum!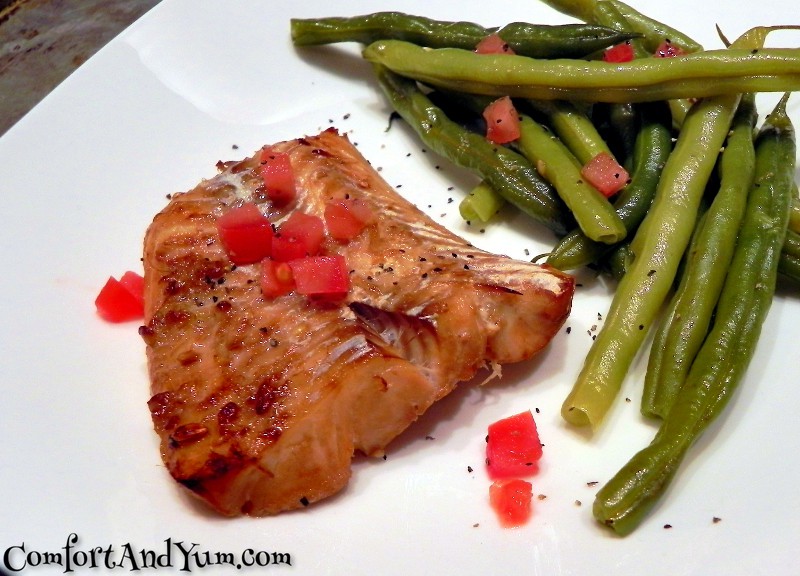 One Pan Marinated Cod Teriyaki
Recipe Type
:
Fish & Seafood
Author:
Prep time:
Cook time:
Total time:
Although we are really fish-stick & tartar sauce kind of fish eaters, we decided to up our game with this simple recipe where the cod is marinated AND baked (in the marinade) all in the same pan! Yummy & hardly any clean up!
Ingredients
3 T. soy sauce
5 T. water
1/2 tsp. minced garlic
1/4 tsp. minced ginger
1 T. brown sugar
1 T.olive oil
Juice of half a lemon
3-4 Cod fillets, thawed and trimmed
Instructions
Pour first 7 ingredients directly into your baking dish and stir to mix well
Add the cod fillets to the baking dish
Cover dish with cling wrap and place in the refrigerator for 2-4 hours. Remove once about half way through to flip the fillets over. Replace cling wrap and set back in the fridge for remainder of marinating time.
Preheat the oven to 400 degrees.
Remove cling wrap. Place the pan, marinade and all, into the oven
Cook for 25 minutes.
Turn on the broiler for 5-10 minutes to caramelize the marinade.
If you don't have or don't use your broiler, you can use the broiler option on your toaster oven instead
Serve with fresh green beans, asparagus or a green salad
Enjoy!