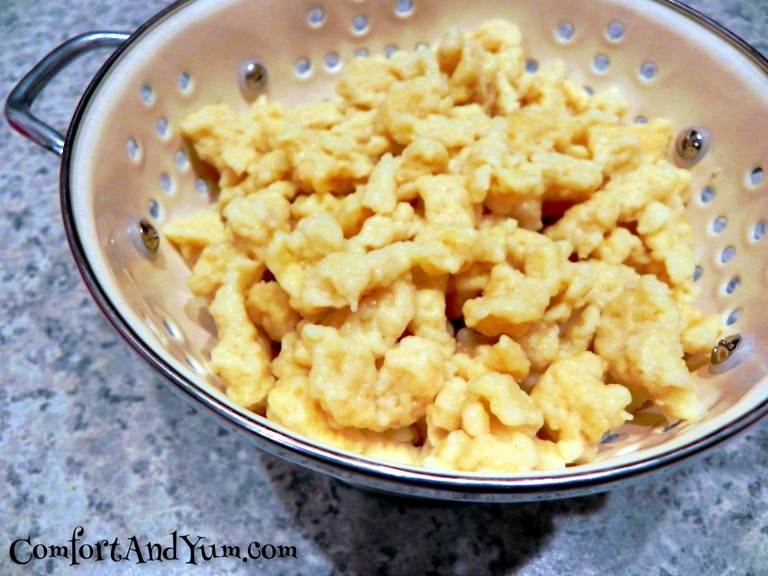 I have to start this post by stating that the Hubster loves pasta. Before we went into a more primal cooking style, he would ask for pasta 5 to 6 nights a week. Pasta is OK, but it's not my favorite. If I have to choose between pasta and meatloaf or pot roast, the beef wins hands down. The hubster feels the exact opposite. Some nights it was a knock-down drag-out fight. Usually he wins … he pouts better than I do (and he's such a cutie when he does it). LOL
What bothers me about pasta, other than how frequently it gets requested in this house, are the extra ingredients I find listed on the box. Two kinds of wheat flour and then 5 different ingredients (which I may or may not be able to pronounce) used for stability and as preservatives. Well, yuk! So I decided that if we're going to eat pasta it will be homemade.
Homemade pasta rocks! The ingredients are simple — just flour and eggs. Who knew?? However, with handmade pasta there's a lot of kneading and rolling and cranking and messing with a pasta machine. That's a deal-killer for me. I can't do all the kneading and rolling. And while the hubster loves eating pasta, he said he'd rather not make it. Between you and me, I think cooking intimidates him!
And then I remembered Spaetzle! Years ago, when we lived in Germany, a restaurant we liked always had spaetzle on the menu and I got hooked. Then I learned how to make those delicious little dumpling noodles myself. Then I just got busy, got lazy and stopped.
Making spaetzle from scratch is so easy! There's no kneading, no rolling and only requires 2 ingredients other than water. Traditional spaetzle uses nutmeg or saffron for flavoring, depending on what part of the world you are in. But why limit yourself? These little gems can be flavored any way you want. Just use your imagination. Add garlic, herbs or spices right to the dough and you've changed the simple spaetzle into a gourmet treat!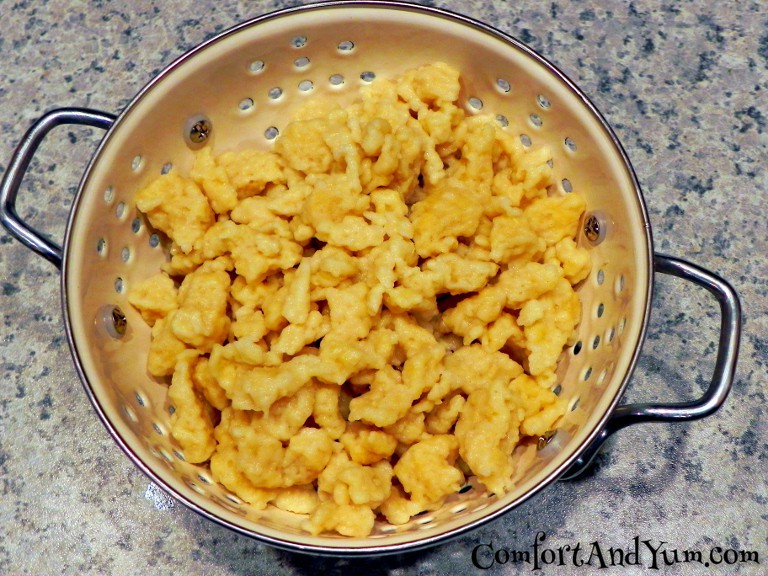 Besides the ingredients which are, like pasta, extremely simple you will also need a way to form the noodles as they drop into your boiling water. You can use a colander or even a slotted spoon with a spatula to push. You can use a ricer or food mill with the largest blade. And if you are really into kitchen gadgets, you can buy a Spaetzle Maker. I had one when I lived in Germany, but since that was decades ago it's long gone.
You are going to need flour, eggs and water for the spaetzle recipe and a big pot of boiling water to cook them in. So let's get started!
Handmade Spaetzle Instead of Pasta
Author:
Prep time:
Cook time:
Total time:
Serves:
Approx. 8 cups of cooked noodles
Unlike making standard semolina pasta, there is no kneading, no rolling, no pasta machine and no cutting. You'll just need your bowl of spaetzle dough, a pot of boiling water and something to form your noodles as they drop into the water. If you sift the flour, there's less chance of lumps but I never sift. I also use a Kitchen Aid mixer to mix up the dough and that helps speed up the process and gets rid of most of the lumps.
Ingredients
3 cups flour
4 large eggs
1 t. salt
1/2 cup water plus more until right consistence is reached
Instructions
Put on a large pot of water to boil. Add some salt to the water. You'll want to leave enough space so that when spaetzle dough is added, it has enough room to expand as it cooks without overflowing. If you find you don't have enough room, that's OK. Just add the spaetzle dough in stages. Cook, remove then add more.
Mix your flour & eggs together with about 1/2 cup of water. Add more water a little at a time until you get a dough which is soft but not runny. It should be somewhere between a bread dough and pancake batter. I normally use between 1-1/2 and 2 cups of water, but I always start with 1/2 cup and go from there.
Using a colander, food mill or spaetzle maker, press the noodles into the boiling water.
Cook noodles for about 5 minutes. They will rise to the surface of the water.
Using a large slotted spoon, scoop noodles out of the water and drain.
Noodles can be served immediately as a side dish browned with butter or can be topped with just about anything from spaghetti sauce to swedish meatballs.
Make flavored spaetzle just by adding herbs or spices to the dough. Options are the traditional nutmeg or saffron. But don't be afraid to use onion, garlic, cumin, chili powder or basil. Your imagination is your only limitation.