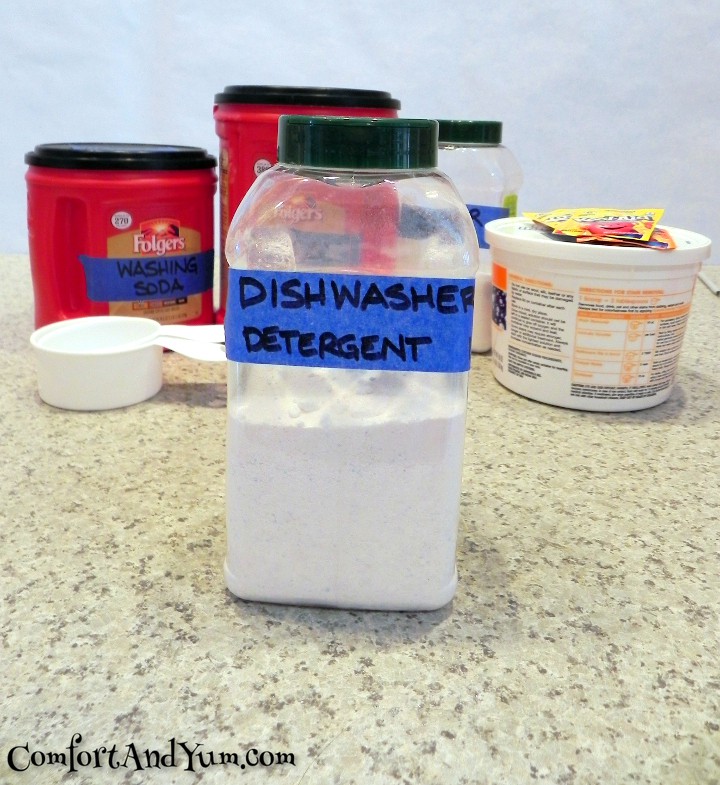 If you are a cook or a Mom you wash a lot of dishes. If you are a food blogger you wash a TON of dishes … every day. I'd say I run maybe 2 or 3 loads in the dishwasher and my sore knuckles & wrinkled fingers tell me I wash too many dishes, knick knacks, pots and pans by hand … every … day! It's possibly the least favorite chore on my plate (no pun intended).
That's a lot of dishwasher tabs (and dish soap — but we'll get to that another day).
If you have hard water, you know how much fun it is to get your dishes clean in a dishwasher — no matter what product you use. I really resent being asked to spend almost $15 for a box of what is essentially just soap "pillows." But it seems that apparently I'm one of many that plunks down my hard earned cash for dishwasher tab. All in the hopes of getting sparkling clean dishes with no white gunky film.
Part of what bothers me is that those tabs are nothing but chemicals and the manufacturers aren't required to tell me what's in them. But they expect me to trust their soap & chemical combo to wash my dishes, plates, glasses and flatware and then let my family and friends use them to put my food into their bodies. Not saying that they are dangerous, I'm just saying that I prefer to know exactly what is being used. And I prefer spending a lot less money to do that.
I'll go over the cost savings between homemade and store bought dishwasher tabs a little further on in the post, but I know you'll be surprised, if nothing else.
If you have soft water or even moderately normal water, there are quite a few recipes you can try and most will probably work for you. If you have hard water, good luck! There aren't that many recipes out there that get your dishes and plastics clean without a gunky white film that almost requires a sandblaster to remove after it's there.
I've tried about six (6) different recipes for homemade dishwater detergent. I didn't think about hard water when I tried the first one and the scale almost took over the dishes in the machine. I swear there is still scale on some dishes and flatware that I'm trying to scrub off.
I found two different recipes for dishwasher detergent that said it would work in hard water and neither did the trick for me.
I guess have extremely hard water. Sometimes when I pour a glass to drink, the water actually stands up in the glass and smacks me on the nose. It's that hard and nasty.
So I did a bit of research then played around with recipes and came up with one that actually works on extremely hard water. YAY — Happy dance ensues!!
You'll need some basic laundry ingredients. If you plan on trying my recipe for laundry soap or other products you may as well keep them handy! You'll notice I reuse containers. My goal is to start replacing those plastic containers with glass jars instead. So much prettier to look at in these photos if I had fancier jars! LOL I know I'd be more impressed!
You'll need Arm & Hammer WASHING Soda. Not baking soda. You'll find washing soda in the Laundry soap aisle NOT the baking aisle. While you are in the laundry aisle, you are going to need some 20 Mule Team Borax and some powdered oxygenated cleaner (like OxiClean). I use the store brand. I have a recipe I'm trying for homemade oxygenated cleaner, but it's a liquid and so wouldn't work here anyway.
Then you'll want to swing over to the drinks aisle and get Unsweetened Lemonade Powder Mix and Unsweetened Orange Powder Mix. You want totally unsweetened, like Kool-Aid or the equivalent store brand. (Believe it or not, Wal-Mart didn't have any of their store brand in stock when I went to get some last time.) Some recipes suggest using citric acid (which is what Kool-Aid lemonade & orange drink mix mostly consist of). However, every recipe I tried that contained citric acid didn't work as well. I could have been the citric acid I had, but why source it out when Kool-Aid (or store brand equivalent) does such a great job.
You'll also need coarse kosher salt, a measuring cup and something to mix your ingredients and to store your powder in.
This recipe is easily doubled and also easily halved. In fact, if you aren't sure the recipe will work for you, I'd suggest only making half. That way you aren't wasting much.
I can't even give my 1st 6-10 failed batches away as all my neighbors and friends have the same extremely hard water that we do.
Now here's the reasons I think you should at least try this recipe:
You'll know exactly what is in your dishwasher detergent — no more mystery chemicals
You'll be saving a TON of money!
I just checked the price on Cascade Complete dishwasher tabs. Those are the ones I used before switching to my homemade recipe. I know they work in extremely hard water. I chose the least expensive source, Wal-Mart (even though that's not where I shop). They have a 67-count box for $13.97 or $0.21 per dishwasher load.
Here's the cost breakdown of my Homemade Dishwasher Detergent for Extremely Hard Water
Arm & Hammer Washing Soda: $2.32 ($0.58 per cup)
20 Mule Team Borax: $1.20 ($0.40 per cup)
Oxygenated Cleaner: $0.48 ($0.06 per oz.)
Coarse Kosher Salt: $0.25 ($0.25 per cup)
6 pkg. Kool-Aid Unsweetened Lemonade Drink Mix: $1.20 ($0.20 per packet)
6 pkg. Kool-Aid Unsweetened Orange Drink Mix: $1.20 ($0.20 per packet)
TOTAL COST: $6.65 for 147 Tablespoons of Dishwasher Detergent
PER DISHWASHER LOAD: $0.045 or less than FIVE CENTS per Load
That's what I call a Win-Win all around!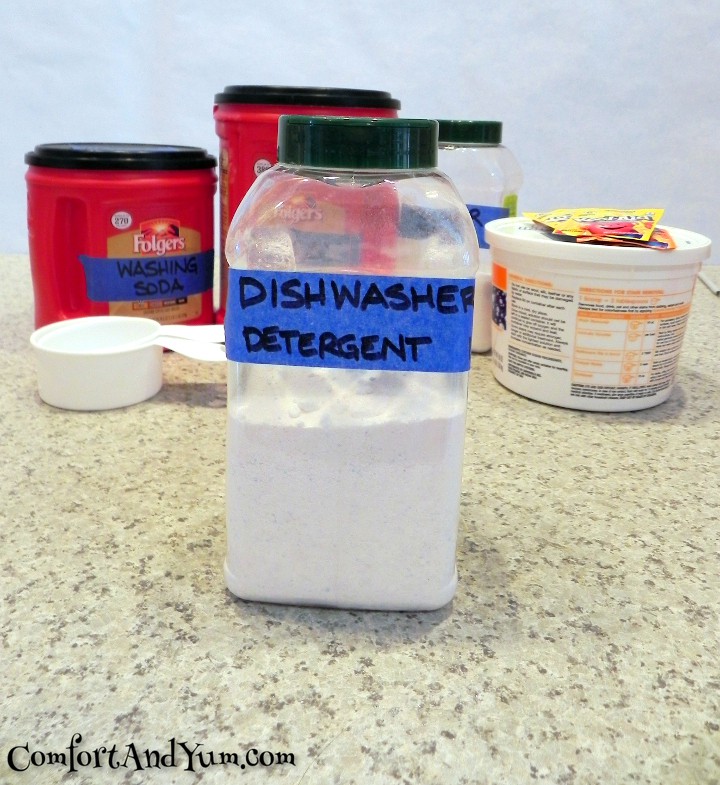 Dishwasher Detergent for Extremely Hard Water
Author:
Prep time:
Cook time:
Total time:
Ingredients
4 cups Washing Soda
3 cups Borax
1 cup oxygenated cleaner
1 cup coarse sea salt or kosher salt
6 pkgs Unsweetened Lemon Drink Mix
6 pkgs Unsweetened Orange Drink Mix
Instructions
Mix all ingredients well. Store in airtight container.
Use approx. 1 tablespoon per dishwasher load. Combine with Lemi Shine Booster if desired.
If you feel you need to, you can also use Lemi Shine Rinse (Jet Dry). It works better with this recipe than vinegar.