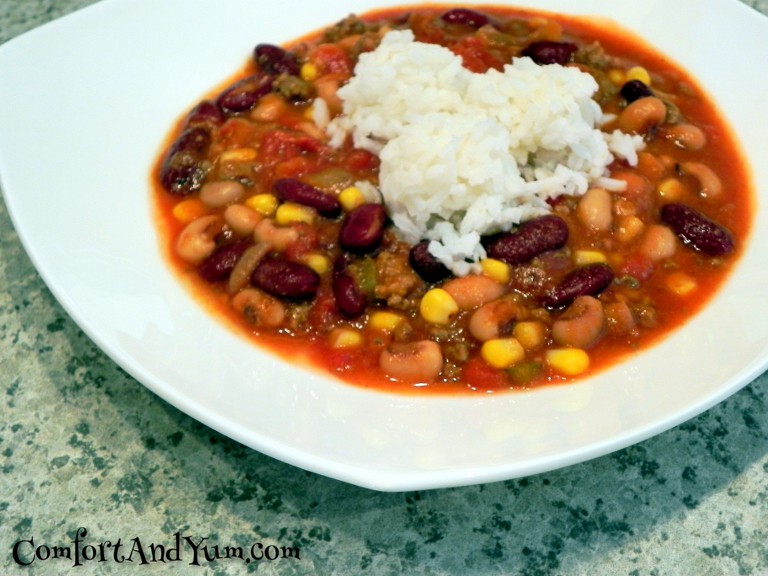 Enough already!! We woke up this morning to, you guessed it, it was snowing! I almost cried. The hubster was so disgusted he decided that a nap was in order and right after breakfast, said nap ensued.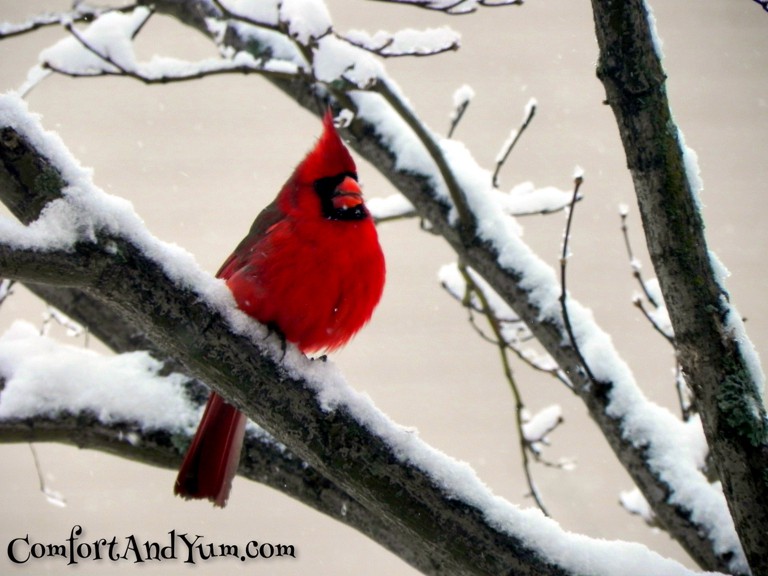 I went to work right away … yeah, right! That could have happened, but seriously — why? I sure as heck ain't going anywhere! Blasted snow.
I decide that my poor little birdies needed some fuel. I bundled up and trudged outside to top up the bird feeders. I wasn't even back in the house before they were zooming back to the feeders. I love my outdoor birdies. All I have to do is provide sunflower seed and I get hours and hours of entertainment!
All this snow has kept the hubster home and that means that I really should make lunch. Normally, when it's just me I heat up some leftovers from earlier in the week. But when the two of us are at home, I like to make something fresh.
I think Better Than Wendy's Chili is in order! I have to admit that I used to be pretty MEH about chili. I made it the way I was taught by my Mom and she made it the way that she & my Dad like it. Her chili is rich, thick and it's more of a stew than a soup made with tomato sauce & paste. It wasn't until I was challenged to eat a bowl of Wendy's Chili that I fell in love with chili. The Wendy's chili was more of a soup — full of diced tomatoes, veggies & beans, beef and it was spicy too. I just had to figure out how to make chili like that.
So, I started with diced tomatoes, ground beef, kidney beans, spices and onions, but something was missing. Knowing that the secret ingredient that I ignored for years in my spaghetti sauce was green peppers, I added some of those and Better Than Wendy's Chili was created!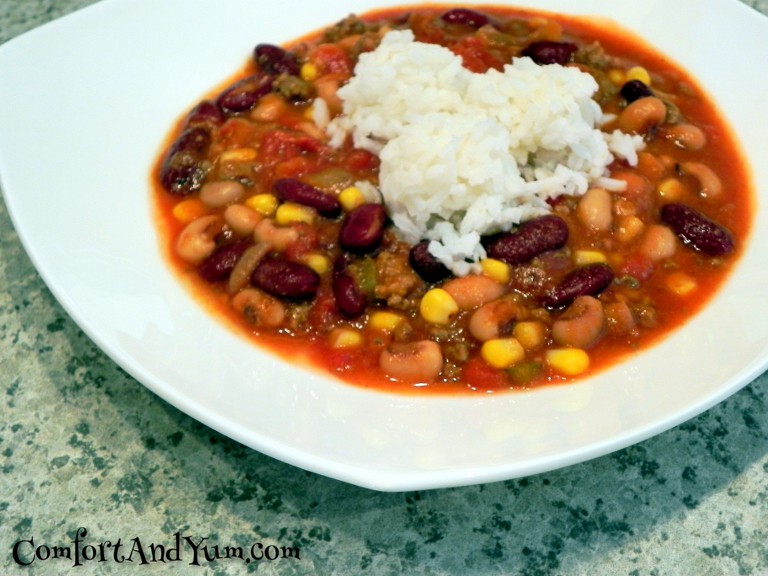 Serve with sour cream and shredded cheese and even over rice and you have a hearty meal that totally satisfies!
Better Than Wendy's Chili
Recipe Type
:
Soups and Chowders
Author:
Prep time:
Cook time:
Total time:
Ingredients
1 lb. ground beef, browned, crumbled and fat drained
1/2 onion, diced
1/2 green bell pepper, diced
28 oz. can Diced Tomatoes
8 oz. can Tomato Sauce
15 oz. can Red Kidney Beans
15 oz. can Black Eyed Peas
12-16 oz Frozen Whole Kernel Corn
1 T. Chili Powder
1 T. Cumin
1/4 t. red chili pepper flakes
Salt and Pepper to Taste
For the Top & Bottom
Sour Cream
Fresh Diced Tomatoes
Sliced Black Olives
Shredded Cheese
Cooked rice
Homemade Bread Bowl
Instructions
Brown ground beef in medium-large stew pot or dutch oven over medium heat, crumbling as it cooks. Once browned, drain off all liquid fats and put back on the heat.
Add onion and green pepper and cook until it starts to turn transparent
Add remaining ingredients and stir to mix thoroughly
Heat to boiling and then reduce heat to low and simmer 30 minutes or until you are ready to serve
Serve over rice or in a bread bowl. Top with your favorite toppings.